2004 - October 21 - Daily service to Delhi from Toronto resumed with A340-500 equipment.
---
Located in the "Horizons" magazine issue dated September 1981.
During 1981, the Korean Airlines Interline Softball Tournament was held in Toronto, and a team from Air Canada Montreal took the women's slow pitch title.
The Montreal Snowbirds beat out 11 other teams to take the trophy. Snowbird Kathy George won the MVP award at the tournament. In all, 48 men's and women's teams from airlines throughout the U.S. and Canada participated in the event.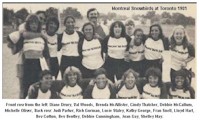 Front row from the left: Diane Drury, Val Woods, Brenda McAllister, Cindy Thatcher, Debbie McCallum and Michelle Oliver.
Back row: Judi Parker, Rick Gorman, Lucie Staley, Kathy George, Fran Snell, Lloyd Hart, Bev Cotton, Bev Bentley, Debbie Cunningham, Joan Gay and Shelley May.
---
Voted "Most Unusual".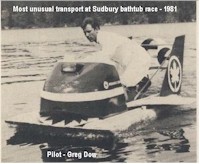 Neither boat nor "plane", but proud enough to boast the company colours, the Sudbury employees' entry into the local annual bathtub race reigned victorious in the "most unusual" category.
In command was station attendant Greg Dow who concentrated on the intricacies of piloting the beast while his pit crew dispensed peanuts and company wings to entice support from an estimated audience of 18,000 spectators.
---
Al Knapp, Manager Japan and Korea and the Tokyo office staff held a "Soyonara" dinner to honor Kinichiro Yamaguchi, Cargo Sales & Service Manager, retiring after 14 years and 4 months with the company. He is the first employee in Japan to retire.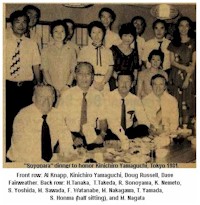 Shown in the front row from the left: Al Knapp, Kinichiro Yamaguchi, Doug Russell, and Dave Fairweather.
Back row: H. Tanaka, Cargo Sales Rep; T. Takeda, Senior Accounting Clerk; R. Sonoyama, Cargo Sales Agent; K. Nemeto, Passenger Sales Manager; S. Yoshida, Cargo Sales Agent; M. Sawada, Cargo Sales & Service Manager; F. Watanabe, Passenger Sales Agent; M. Nakagawa, Cargo Sales Rep; T. Yamada, Passenger Sales Rep; S. Honma (half sitting), Clerk Stenographer and M. Nagata, Passenger Sales Agent.
---
Issue dated February 2008. (Used with permission)
Ten Toronto-based flight attendants formed a team, "Friends To The End", to raise funds for the Canadian Cancer Society's Relay for Life, on a very stormy Friday in June, 2007.
The CMWA - Canadian Maple Wings Association - (a wonderful group of retired Air Canada employees) generously donated $5,000.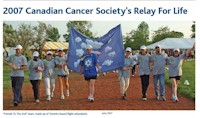 With their help, the team of Cathy O'Connor, Holly Weller, Julie Vaillancourt, Joseph Deveaux, Joseph Benjamin, Tanya Basra, JP Deverteuil, Janine Deveaux, Karen Prinz. Pamela Baswick and Karen Roberts managed to raise over $11,000. Karen's daughter Amanda, graciously stepped in this year when a replacement was needed at the last minute.


---
Sydney Australia inaugural (Used with permission)
The December 14, 2007 departure of Air Canada flight AC033 on board our new Boeing 777 marked the launch of the only daily nonstop flight between Canada and Sydney, Australia.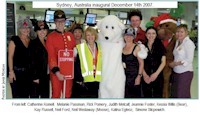 The crew from the left: Catherine Komell. Melanie Passman, Rick Pomery, Judith Metcalf, Jeannie Foster, Kessia Willis (Bear), Kay Russell, Neil Ford, Neil Westaway (Moose), Katina Egleoz and Simone Sticpewich.
---
From the "New Horizons" magazine issued dated October 2004. (Used with permission)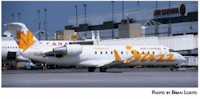 Jazz gets its first CRJ. The first of 15 Bombardier regional jets arrived at Jazz on October 18th, 2004. The arrival of the new 50-seat CRJ-200 marked the beginning of a series of regional jet deliveries planned for later in 2004 and early 2005. The 15 for 2004 are firm deliveries, another 15 can be cancelled without penalty. There is an option for another 45.
---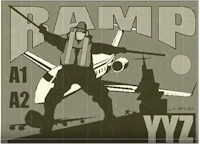 Click Here for Part 2 of the YYZ Ramp Rats video