Canada 3000 - What should have been!
There have been numerous articles and books written about the turbulence of the airline industry during the last decades of the twentieth century. Of the many airline start ups and casualties, there is one airline in Canada that was finding a niche and would have been a success story if not for tragic events of September 11, 2001.
Canada 3000 was modelled after British airline Air 2000 and began operation in May 1989. When Canadian Airlines acquired Wardair, Canada 3000 was poised to take over the charter airline market in Canada and would later became the largest charter airline in the world. At its peak, it operated a fleet of 51 aircraft to over 90 destinations worldwide.
After years of stability and steady growth, Canada 3000 went public in 2000 and began to implement some ambitious expansion plans. They acquired Royal Airlines' charter and cargo operations and then CanJet Airlines in 2001. They became the first airline to operate non-stop service from North America to India. Taking on the additional debt seemed like a reasonable risk because the future certainly looked bright for this well managed airline; until the world changed.
Overnight, bookings dropped by over 50% and within a few months the airline was forced to cease operation. Although there may have been options available and the decision to close remains open to controversy, it is tragic that a success story ended in this manner.
The cargo division emerged to become Cargojet Airways under former exec Ajay Virmini and former CEO, Robert Deluce, went on the form Porter Airlines. Both airlines have found success within their niche markets.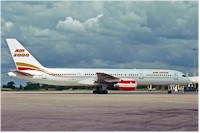 We would love to hear from any former employees of Canada 3000 if anyone wishes to share their memories.
Pictured at right is a Boeing 757-200 under registration G-OOOA in Canada 3000 livery. Planespotters.net lists this aircraft as presently registered as G-GIAJ and in the Cargojet fleet.