In 1962, 40 members of the Abbotsford Flying Club collected $700.00 to put on the first Abbotsford International Air Show which attracted 15,000 spectators.
(Source Vancouver Sun)
---
Flying bikes.
This photo from Canada's Murphy Aircraft was snapped at the world's biggest fly-in, AirVenture in Oshkosh, USA.
While it might look like the outcome of something that went wrong in the factory, the two-seat Radical STOL kit plane is actually offered with an optional underwing fitting to carry bikes.
(Source: Flight International August 2017)
---
The days of passengers arriving at their destination without their luggage, as it had been sent in the opposite direction, may soon be over.
This from IATA -
"Resolution 753" may not seem like something the average passenger would be interested in, but it will have a significant impact on something travellers care about: keeping tabs on their bags.
The IATA mandate for airlines to track a passenger's checked baggage at every step of the air travel journey, which will take effect in June 2018, is pushing airlines around the world to invest in and upgrade their baggage handling systems.
(Source: atwonline July 25/17).
---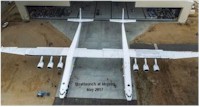 As it is prepared for its first flight, the world's largest aircraft was rolled out of its hangar in Mojave, California on May 31st, 2017.
The Stratolaunch aircraft, built by Scaled Composites in powered by six PW4000 engines and is 117m (385ft) wingspan. Trials of the air-launch system are due in 2019.
(Source: Flight International Magazine June 14/2017)
---
Jim Griffith has sent us this information -
The Ottawa Airport Authority just recently announced that they were closing a long-standing airplane spotter's perch close to the threshold of YOW's Runway 32, a place where folks, families and aerogeeks have been coming for as long as Runway 32 has existed.
The closure was due to other less scrupulous people abusing the place by throwing litter, dumping garbage bags and other trash under the approach to this wonderful spot. Jerks. The YOW people had no option but to close it down for safety reasons with strong winds often blowing FOD high into the glide path. Others were off-roading under the approach, leaving furniture and dumping chemicals. Jerks.
These nincompoops, these knuckleheaded abusers, managed, as nincompoops always do, to ruin it for everyone else—people who loved to spend an hour or so out in the sun and the fresh air watching airplanes; families who could entertain excited kids for no cost at all.
Click Here for the full article
---
CHORUS AVIATION had C$40.8m net income for 2Q17 (vs $23.7m in 2Q16) on 7.5% higher revenues. It says its newly formed aircraft leasing unit has acquired 17 aircraft to increase fleet total to 54 that includes 39 under lease in Air Canada's CPA.
(Source: SpeedNews Aug 2017)
---
The Vancouver Interline Club held their 50th anniversary at the Richmond Curling Club on May 5th 2017, attended by approximately 140 people.
Several came from far away....England, Germany, Iceland....some closer; from Vancouver Island, B.C., Winnipeg, some from U.S...Las Vegas, Washington D.C. and of course many locals.
The idea of an interline club in Vancouver was conceived in 1952 with a few interested airline parties. The club became a legal entity in 1964 with 30 members and the Club was formed on February 28th, 1967 at the Newsman's Club in Vancouver with representatives from 12 airlines who operate into and out of Vancouver.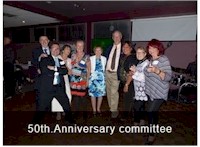 We have this photo of the organizing committee, unfortunately, no names were provided.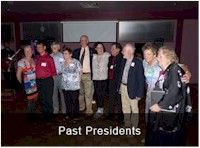 This photo is of the past presidents, again, no identifications.