2017 - June 20th - Rouge began seasonal non-stop service between Toronto and Reykjavik with A319 equipment.
---
From the "Parts & Pieces" issue October, 1988.
Air Canada signed a letter of intent for the future sale of 28 of our B-727's to Federal Express Corporation. Delivery took place during the period 1990-1993 as we received the new Airbus A320 replacement aircraft. DC-8-63 freighters fin #876 and 877 were declared surplus and were offered for sale.
---
From the "Horizons" magazine issue dated April 2008. (used with permission)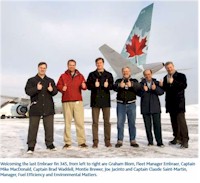 The final Embraer E190 C-FNAX fin 345 was delivered to Montreal from Brazil via Barbados under the command of Captains Brad Waddell and Mike MacDonald. Welcoming the last Embraer fin 345.
Pictured from left: Graham Blom, Fleet Manager Embraer, Captain Mike MacDonald, Captain Brad Waddell, Montie Brewer, Joe Jacinto and Captain Claude Saint-Martin, Manager Fuel Efficiency and Environmental Matters.
---
A group of London Heathrow employees have embarked on a mission to help a school in South Africa.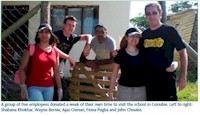 The initiative stemmed from a conversation between Peter Kemp, General Manager, Customer Service - U.K. & Ireland and Fiona Puglia, Customer Sales & Service Agent when he told her that his sister and brother-in-law help run a school in Gonubie, South Africa that helps children who have lost their parents to AIDS.
---
Issue dated November 1981.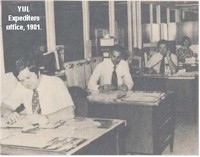 Shown in this photo taken in the Supply Support Expedite Office area in YUL are from the left: Dave Robinson, Aircraft Expediter; Chris Marsella, Aircraft Expediter Supervisor; Ernie Dzlewir, Aircraft Expediter and Sheila Davies, Secretary.
---
Issue dated July 1977.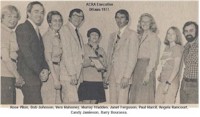 Outgoing Ottawa ACRA President. A mini-reception was held at Ottawa airport during June 1977 to honour retiring ACRA president Janet Ferguson.
Janet was the driving force behind the inauguration of the ACRA in Ottawa and had given much time and effort in making it a success.
At the reception were, from the left: Rose Pilon, Director; Bob Johnson, Secretary/Treasurer; Vera Mahoney, Director; Murray Wadden, Personnel & Administration Supervisor; Janet Ferguson, Vice President; Paul Marcil, Passenger Service Manager; Angela Rancourt, Director of Membership; Candy Jamieson, Recording Secretary; Barry Bourassa, President. Missing were Directors Gordon George and Wayne Wilson.