Appreciation for Canadian Airlines International
This year has marked the 80th anniversary of Air Canada as well as the 40th anniversary of the Air Canada Pionairs organization of retirees.
I hope that I am not offending anyone when, as an original Air Canada employee, I mention that this year also marks the 30th anniversary of the formation of Canadian Airlines International. I spent the last fifteen years of my career working at the former C.A.I.L. Ops Centre in Vancouver with veterans from CP Air, Pacific Western, Eastern Provincial and Wardair and formed lasting friendships.
Personally, I think that there is little doubt that March 27, 1987 has become one of the most important dates in the history of aviation in Canada. C.A.I.L began with high ambitions that were very much needed in the airline environment. It was the end of complacency and the beginning of a turbulent era that has been the subject of many articles and books, initiated many legal proceedings and disrupted the lives of many people.
Strong feelings concerning the events of this era still exist within those affected but today they may be most prevalent among us retirees who continue our loyalties to the companies, unions and colleagues who we shared so many years of our lives.
Young people joining Air Canada today are entering a very exciting industry with a bright future. The legacy of Canadian Airlines International, and its people, played an important part in creating this future.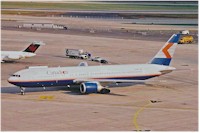 It is worth mentioning that the first aircraft fleet to enter service with the newly formed C.A.I.L. was the Boeing 767-300ER with the delivery of four aircraft in March 1988 and all four are still in service today.
Registrations C-FCAB, C-FCAE, C-FCAF and C-FCAG were originally numbered 631 to 634 respectively and then renumbered 681 to 684 after being transferred to the Air Canada fleet.
These are rare birds because all four have been in continuous service with C.A.I.L / Air Canada for close to thirty years under the same registrations.