My Reason for Remembrance
I probably spend far too much time sitting in front of my computer. YouTube can keep me busy for hours. It's wonderful to live at a time when we can view history on demand.
However, nothing on the internet will ever replace the rewarding experience of meeting new people and learning about their life experiences.
Most of my evenings are spent at a local Royal Canadian Legion (I live within a 30-minute drive of three branches) playing either Cribbage or Euchre. There is always a game somewhere and more than a hundred friends to make.
One evening a few months ago, during a Euchre tournament, I was having a casual chat with a gentleman who clearly enjoyed talking about his family; for good reason.
Bob Fritzke is now in his early eighties and is one of 8 siblings who had served in the Canadian Armed Forces from 1942 until the sixties. Bob enlisted in 1954 (the year after I was born) at the age of 17 and was trained as an Aero Engine Technician (fitter). While posted at CFB Trenton he maintained the Harvard Trainer aircraft and later was posted to the CF-100 engine school in North Bay. He obtained the rank of Leading Aircraftsman before his discharge in 1957. Bob chose not to pursue a career in aircraft maintenance, instead becoming a heavy-duty mechanic. He remained close to his military background and has been a Legion member for over 50 years.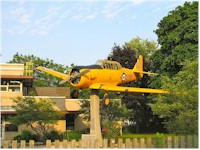 I have never served in the military, but I have come the appreciate the people I meet who have. As I listened to Bob talk about his family and hear the pride he feels, particularly for his elder siblings who served during WW2, I realized that remembering is not enough, we need to listen and learn.
Last month I received my poppies in the mail along with a donation envelope which I promptly dropped off with my donation the same evening. A few days later I was walking by a local drug store where a solitary elderly veteran sat in a wheel chair with a poppy tray on his lap. Although, I was wearing my poppy, I could not just walk by without dropping some money into his donation can. Neither of us spoke, he just smiled at me warmly.
Videos may be able to tell me the stories but only contact with the people help me to understand history.
References and Links
Pictured - Harvard training aircraft at Dunnville, Ontario
More on the Fritzke family - from the BC / Yukon Command Military Recognition Book Volume 10.
YouTube video - Canadian Harvard Aircraft Association