Christmas Around the World
As mentioned in Alan's Space, Alan and Mary Lou are celebrating Christmas and New Year's in style by cruising in Australia and New Zealand.
Lately, I have found myself thinking of a very special Christmas season for myself ten years ago. I had some vacation time in early December 2007 and a C1 pass to use before the end of the year so I decided to enjoy an Executive Class ride to Beijing. I had toured China earlier in the year and wanted to see more of this historic city.
I certainly was not expecting to see Christmas decorations around the city but, to my surprise, my hotel was beautifully decorated for the season. My first impression was that this was simply for the benefit of tourists but over the next few days I learned that the people very much into the 'spirit' of Christmas.
One of my guides on this trip was very knowledgeable about western culture and was able to explain to me the meaning of Christmas from a non-Christian perspective.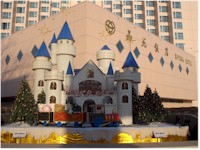 My guide also mentioned to me that there could be good deals on hotel rooms in China during the Chinese New Year celebrations because the people returned home to be with their families during this time. So I returned to Beijing in February 2008 to see people carrying gifts of flowers and small red envelopes (containing currency) as they travelled around the city to celebrate the holiday with their loved ones.
The concept of a day when everyone is at peace and the joy of giving is universal and can be celebrated within all faiths and cultures.