Airtransit - A little piece of history
It seems to be quite unusual, with the amazing access to information we have today, that information on any subject could be hard to find. However, I found myself in this situation while preparing the content provided by Terry for this edition of the NetLetter.
One of the images Terry sent is the cover of a timetable (from the collection of David Zekria) of a little-known airline named "Airtransit" that operated as a subsidiary of Air Canada during the early 1970's. I even managed to stump a Google search as it only asked me if I was looking for "Air Transat".
Airtransit was incorporated on June 19, 1973 to provide this service and operated six de Havilland DHC-6-300. The airline does not appear as one of the many legacy airlines in Air Canada's history and rzjetz.net lists all six aircraft as being registered to Transport Canada.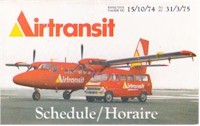 I did find a Wikipedia page on the Victoria STOLport (Short Takeoff and Landing) aerodrome built on the former Expo '67 site in Montreal. A demonstration service flying between downtown Montreal and Rockcliffe Airport in Ottawa for a two-year period. While proof reading this issue, Ken Pickford noticed that there is a link on the bottom of the Wikipedia page to a Flight International article from November 28, 1974.
Ken also added his personal memory with this airline:
"I flew on Airtransit once from Montreal to Ottawa just for fun (one way only). As I was with CP then, can't remember whether we got reduced rates or whether I paid full fare. Probably the latter."
Apparently, the demonstration was not successful and was discontinued. Below are links to the limited amount of information that I have been able to find. Hopefully, we will hear from some more of our readers who may have personal experience with this time in history.
Wikipedia - Victoria STOLport
rzjetz.net - Airtransit fleet
SAE InternationalSAE International - Archived article announcing the service.
Airtransit timetable interior

---