From "via Larry Milberry/CANAV Books". (with permission)
www.canavbooks.wordpress.com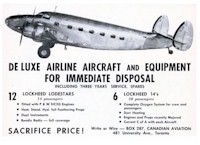 Great things developed for Trans-Canada Air Lines early after the war. New aircraft like the DC-3 and North Star were the biggest change, allowing for a much expanded route structure.
More than 20 newly rebuilt DC-3s were delivered by Canadair starting in 1945, so the well-worn fleet of Lockheeds was sold. This basic "advert" tells the story. No doubt the planes went at give-away prices. For their new role as corporate planes, the basic old TCA Lockheeds were gutted, then rebuilt with swish interiors. As such, they served into the early 1960s – Rolls-Royces of the airways, the granddaddies of today's Global Express.