Calgary Aero Club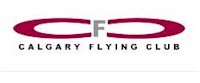 On November 1, 1927, barely six months after Charles Lindbergh completed the first solo airplane flight across the Atlantic Ocean, a group of over 100 aviation enthusiasts met to form an organization that would become an important part of the lives of several thousand pilots.
The Calgary Aero Club (the name was changed to "Calgary Flying Club" in 1946) came into being due to a number of factors. You can read about the early history on FaceBook
It operates out of Springbank airport, CYBW.
Neil Burton sends us some more information regarding the Aero Club of BC which we had in NetLetter #1380 -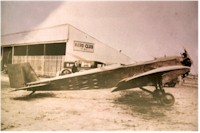 Photo courtesy of the Ringer brothers, whose father, Johnnie, was taking automotive maintenance training in Vancouver, B.C. at that time. The aircraft is located in front of an Aero Club of B.C. sign.
On Wednesday, September 30, 1931, Lana R. Kurtner, with passenger Elmer Manning, both of Seattle, in a low-wing aeromarine (NC 199 –M), won the first Vancouver-to-Vernon airplane race, landing on the Vernon airfield at 3:30 p.m. They flew up, experiencing fog, the Fraser and Thompson rivers to Kamloops, before heading south-east to Vernon. Four other competitors were not yet in sight; their prize $100.00
Second place went to Eddie Brown and Ted Morrison, in a Travelaire, followed closely by Art Leaf, in a Great Lakes, and Eddie Kearns and Al Paulson in a Stinson Jr.
The event was the opening and pageant for Vernon's airfield – September 30 – October 1, 1931, on Mission Hill. At least 15 aircraft ended up participating in the pageant. Estimated crowd of 6000 spectators.
(Research: Vancouver Sun, Vernon News, Victoria Daily Colonist).

Neil Burton