The article in NetLetter #1383 under Terry's trivia and travel tips, had a photo of the North Star flight bulletin and asked readers if they had any information regarding the insignia.
Prompted by this request, Jean Downie sent us this information -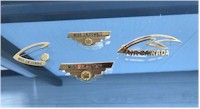 In your most recent NetLetter, you requested information regarding the insignia. This insignia was issued to flight attendants in 1965 when Trans-Canada Air Lines became Air Canada.
We were issued with a new dark, bottle green uniform for the occasion which consisted of a two piece suit, a white blouse, a dark green coat, long black leather gloves, black high heels, and of course, a hat!
The badge shown in your photo is the hat badge, it was slightly curved to fit on the brim of the hat; this was the winter uniform. In the summer, we changed into a turquoise jumper and jacket, a white blouse, with a variety of hats (the company kept changing the styles!) One was a round cream coloured straw and the insignia on that was similar, not exactly the same, as the large one and slightly smaller.