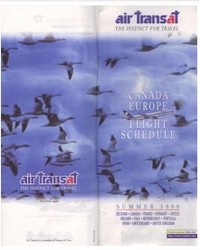 Here we have the timetable for Air Transat issued 1998 (Source: airline-memorabilia.blogspot.ca)

Air Transat made its inaugural flight on November 14, 1987, travelling from Montreal to Acapulco. Six years later, Air Transat assumed defunct Nationair's maintenance base and aircraft.
Today, the company books over 3.5 million passengers a year. It is a wholly owned subsidiary of Transat A.T. Inc. Air Transat is now one of Canada's largest airlines, after Air Canada and WestJet. Air Transat has 5,000 employees.
On February 13, 2011, Air Transat Flight TS163 operated with their first all-female flight crew from Cancun to Vancouver.
The airline has won many awards, including the 2012 Skytrax World's Best Leisure Airline Award.
They have a mixed fleet of 48 jet aircraft.
(Source: Wikipedia & Planespotters)