This Lockheed Aircraft Corporation advert in the Flight magazine issued August 17, 1939 has the title "The Newest, Fastest Transcontinental Airline".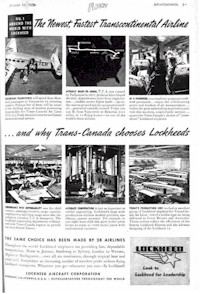 Pictured panels are titled:
"Luxurious transports", "Actually made-to-order" and "As a passenger".
Other pictures under "... and why Trans-Canada chooses Lockheeds" with the statements:
"Performance with dependability", "Accurate construction" and "Today's production line".
The conclusion was "The same choice has been made by 28 airlines".