Air Canada NAVI magazine was launched in March 2017.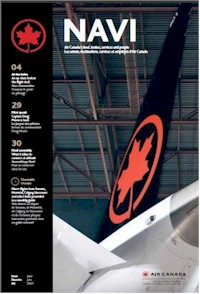 Here we have the June cover page. Below is a photo of the crew.
Back row: Keith Ewenson, Chris Koroneos, Marlo Sarrazin, Anne-Sophie Dutoy, Martin Bourassa, Phillip Lee, Andres Suarez and David Rheault.
Front row: Hiderni Horli, Shannon McKenzie, Lyne Benoit, Marie-Helene Desgroseilliers, Ranai Chehade, Stephanie Ciotti and Amos Kazzaz.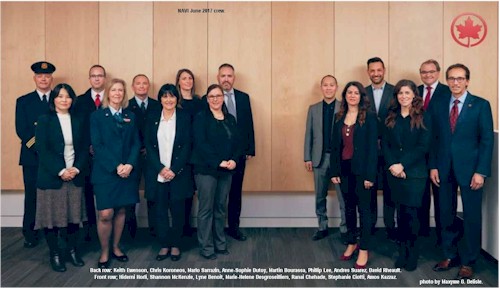 ---

Found in the "Horizons" magazine.
Issue November 1982.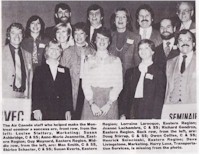 The Air Canada staff who helped make the Montreal seminar on the RESERVEC a success are pictured in this photo.
From the left: Louise Slattery, Susan Ashbridge, Anne-Marie Jeannotte and Guy Maynard.
Middle row: Mac Smith, Shirlee Schacter, Susan Everts, Lorraine Larocque, Jeanne Lachambre and Richard Gendron.
Back row: Doug Stirrup, Owen Colliss, Henrick Sniecinski and Dave Livingstone. Missing for the photo is Harry Luxa.
---
Issue dated August 2005.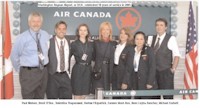 Washington Reagan Airport, or DCA , celebrated 10 years of service in 2005.
In our photo, from the left are: Paul Nielsen, Manager, Customer Service - Mid-Atlantic; Brent O'Dea and Valentina Thapanawat, Airport Service Coordinators; Harlow Fitzpatrick, Customer Service Agent; Carmen Mont-Ros, Airport Services Coordinator; Ileen Leyba-Sanchez and Michael Corbett, Customer Service Agents.
Brent, Carmen and Harlow opened the station in 1995.
---
Issue dated June 2009. (with permission)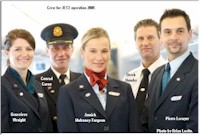 Our 2009 photo of the JETZ aircraft and the crew.
From the left: Flight Attendant/AC Service Director Genevieve (Gen) Wraight, Captain Conrad Caron, Flight Attendant Annick Mulroney-Turgeon, Licensed Aircraft Technician Derek Humby and Service Director Pierre Lecuyer.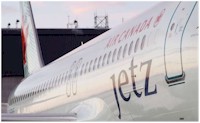 In 2017 Air Canada Jetz proudly flies all seven Canadian NHL teams, the U.S. NHL team Colorado Avalanche and the Toronto Blue Jays baseball team.
(Source: Daily December 28, 2017)
---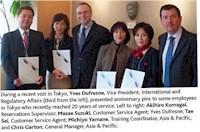 During a recent visit to Tokyo, Yves Dufresne, (third from the left in this photo) presented anniversary pins to some employees in Tokyo who recently had reached 20 years of service.
From the left are: Akihiro Kumagai, Masae Suzuki, Tae Sei, Michiyo Yamane and Chris Garton.
---
Found in the "Between Ourselves" issue dated October 1963.
ACRA (Air Canada Recreation Association) Project Outdoors - 1964
The official opening of the 24 acre site on Lac Barriere in the Laurentians planned for June 27 was announced by ACRA President Ron Sutherland. Tickets for a Chevrolet Impala car were being sold, proceeds to be used to develop the new site.
Montreal ACRA Officers for the 1965-1967.
Lucien Bussiere - President; Peter Robinson - First VP; Art Claude - Second VP; Marlia David - Secretary; Jerry Richard - Membership; Gord Thompson - Publicity; Roy Patton - Employee Purchasing; Art Golland - Social; Earle Corrigan - Special Activities; Art McKinnon - Sports; Horace Legace - Activities; Ben Breault - Way & Means and Pam Betteridge - Treasurer.