Oldest terminal marks 90 years.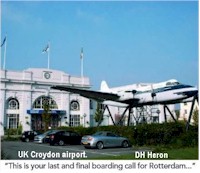 These days, it might be a drearily named business centre on Purley Way, but it is 90 years this month since the UK's Croydon Airport House opened as the world's first purpose-built terminal building.
The rather splendid structure - and equally iconic and pioneering control tower behind it was the centrepiece of what was between the wars London's main airport, transporting travellers to Paris Le Bourget and beyond, and witnessing events such as Amy Johnson's departure for Australia in her de Havilland Gypsy Moth in 1930.
After becoming RAF Croydon during the Second World War, the airport struggled to regain its status in peacetime, and Heathrow's emergence as the capital's international gateway forced its closure in 1959. The airport has long since been converted to parkland, industrial sheds and housing estate, but the listed terminal and tower live on, with the latter now housing a museum detailing the airport's history.
This is a photo of the de Havilland Heron which stands outside, marking the airport's final flight movement by Morton Air Services to Rotterdam on September 30, 1959