From the Air Canada "Horizons" magazine issue dated December 2017/January 2018.
Retiring Fin 681. (Used with permission)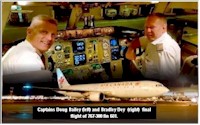 This Boeing 767-300 Fin #681 C-FCAB c/n 24082 has flown 129,863 flight hours, 5,410 days or 14.8 years. Delivered to Canadian Airlines on April 15, 1988, this aircraft flew domestic, trans border, Caribbean and international routes.
Captains Doug Bailey (left) and Bradley Dey (right) flew the newly retired aircraft to its new home in Marana, Arizona on October 25, 2017.