America West Airlines – Innovation amid the Turbulence
When I began my airline career in YYZ back in 1980, Las Vegas was high on my list of places to visit. However, at the time, Air Canada did not fly scheduled flights directly from YYZ to LAS.
Charter service was available twice a week (Thursday and Sunday) using B-747 Classics in 496 seat all economy configuration. There was still a strict dress code in effect and male cons had to wear jackets and ties. To say the least, it was difficult to be inconspicuous on a flight full of vacationers casually dressed on their way to a "Sun" destination.
There was no registration nor a way to pre-check flight loads at the time so showing up at the airport hoping for a seat was like pulling on the arm of a slot machine. The back up plan was to buy OAL tickets on a couple of airlines from LAX to LAS in case it was necessary to hop on the YYZ-LAX flight that left a few hours after the direct charter.
America West was the best bet of the OAL's because LAS was one of their hubs and they flew almost hourly right up until 01:00. I realized that they were doing things differently on my first flight with them. This was before the proliferation of low-cost airlines and the industry turbulence that was shortly to follow.
They were one of the first airlines to employ "cross-utilization" of staff and when I arrived bleary eyed at the gate hoping for a seat on their last flight of the evening; I was greeted by a young man dressed as a baggage handler who happily checked me in, assigned me a seat and then tagged my bag and departed down the stairs to load it on the aircraft. As I walked down the gateway to board the aircraft, the female gate agent who had been working with the young man followed me onto the aircraft and picked up the microphone to begin the pre-flight announcements. What just happened! All the workers in this company seemed to like their jobs!
I was to learn later that all America West employees were required to purchase company stock and as such, considered themselves to be owners of the company; a concept that we would hear much more about in later years in Canada. The formula worked as America West continued growth for the rest of the eighties but the company's own ambitions and world events in the next decade changed things abruptly and the company operated under bankruptcy protection from 1991 to 1994.
America West would emerge from bankruptcy in 1994 with investments from Mesa and Continental Airlines (Air Canada had made an investment in Continental around this time). When Air Canada and C.A.I.L merged in 2001, we had a contract to perform "C" checks on the America West B-737 fleet at the YVR Ops Centre.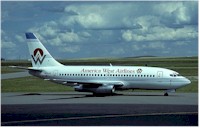 Registration N128AW (pictured) was originally delivered to Pacific Western Airlines (registration C-GBPW) and was leased to America West on several occasions before becoming a part of the Canadian Airlines fleet. It was retired after the Air Canada/C.A.I.L. merger and submerged on the ocean floor off the coast of YVR where is has since served as an artificial reef for diver training.
In 2005, US Airways was still in bankruptcy and, in a reverse merger, its operations were taken over by America West Holdings but it was the much larger US Airways brand that survived and America West livery slowly disappeared. US Airways would later merge with AMR in 2013 and, in turn, its livery was absorbed into the American Airlines brand by 2015.
For more information:
America West Airlines @ Wikipedia
Tribute to America West @ YouTube
America West/US Airways merger @ YouTube