Paul Goodman has sent us these photos of CP Air Reservation Agents from the early seventies when their office was at Vancouver reservations on Burrard Street.
It would be interesting to see if anyone else has photos from this era. Note: We're not sure if these are re-union photos or photos from the 70's, we'll verify this in our next issue.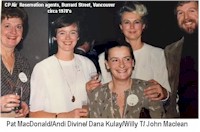 Pat MacDonald, Andi Divine, Dana Kulay, Willy T. and John Maclean.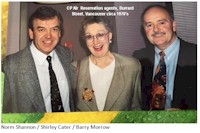 Norm Shannon, Shirley Cater and Barry Morrow.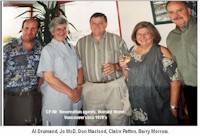 Al Drumand, Jo McD. , Don Macleod, Claire Patten and Barry Morrow.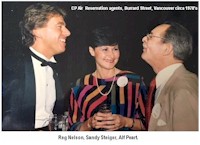 Reg Nelson, Sandy Steiger and Alf Peart.
Shirley Cater and John French.
Reg Nelson, Louise Moore, Doug Hollingworth and an unidentified lady.
Louise Moore, unidentified gentleman, Angie Keeping, George Neufelt, Peggy Grant and Doreen Hazel (???).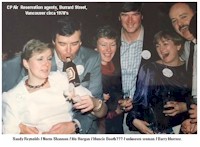 Sandy Reynolds, Norm Shannon, Mo Horgan, Muncie Booth (???), unidentified lady and Barry Morrow.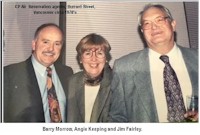 Barry Morrow, Angie Keeping and Jim Fairley.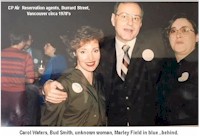 Carol Waters, Bud Smith, unidentified lady and Marlie Field in blue behind.
Linda Alexander (???), Lorne Baker and Peggy Grant.
Please note: Question marks (???) appear where Mr. Goodman is not certain of the identification. Clarification from our readers would be appreciated. Eds.