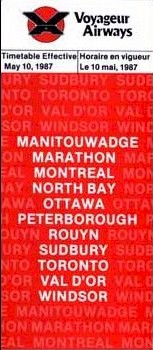 Here we have the timetable for Voyageur issued May 10, 1987.
Operating since 1968, Voyageur Airways is a North Bay-based company offering air charter services, maintenance of private aircraft, ground handling and support services. The company still exists but no longer operates scheduled service. They operate a fleet of 17 aircraft.
Based at the North Bay Jack Garland Airport.
Address: 1500 Airport Road, | North Bay, Ontario, P1B 8G2.
---
Legend returns, in name at least
If, as widely reported, Airbus scraps the C-Series brand once it takes over the struggling program from Bombardier - by renaming the 110-seat variant the A210, and its big sister the
A230 - it will be departing from the "A300" nomenclature used since it developed its original twinjet in the early 1970s.
However, the 210 designation does have some history for Toulouse, among those with long memories.
The pioneering Caravelle twinjet-produced by Airbus predecessor Sud Aviation - was the SE 210. SE stood for Sud Est, the original entity - that developed the first jet airliner for the short - and medium - haul market.
(Source: Flight International May 8, 2018)