Air Canada NAVI magazine was launched in March 2017.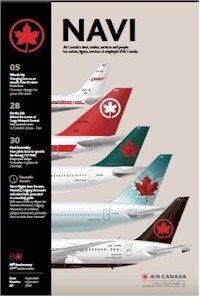 On the left we have the issue for September 2017 cover page.
Below is a photo of the crew.

New edition of NAVI magazine available on aircraft in May 2018.
Beginning with NAVI onboard issue 10 (spring 2018), the publication will exclusively be found in our literature packs in Air Canada wide body J seatbacks. This will bring back the accessibility and visibility of NAVI onboard, while also managing costs. Please note it will no longer be included in the Fly-Away kits on any aircraft.
NAVI will continue to be available in our Maple Leaf lounges, Concierge offices and the Air Canada Signature Suite. In addition, our sales teams will have copies to distribute to customers, partners and industry associates. New employees can also get a copy of NAVI at their orientation to help them learn more about our company.
(Source: Daily April 16, 2018)
---
Gathered from the "Horizons" magazine issue dated May 1983.

"Baker's Dozen" retires.

Approximately 250 friends, relatives, industrial associates and assorted well-wishers gathered on Friday April 15, 1983 at Chicago's Sheraton International Hotel to bid farewell to 13 Central U.S. Area managers who opted for early retirement.

The ballroom was decorated with a set depicting the retirees in full jump suits, "bailing out" of old TCA planes. The set which extended around three walls of the room, used old photos of the 13 in their younger days, blown up larger than life.

Highlight of the evening was a "roast", presided over by Gordon Froede, Central U.S. General Manager.

Each one of the "Baker's Dozen" was required to sit back in a lounge chair and don sunglasses and a sun hat while the roast took place. Each retiree was roasted in turn by one of his confreres, with only a few moments for "rebuttal".

The evening ended with the presentation of retirement gifts to the 13 by Pat Labrie, Vice President, U.S. and South.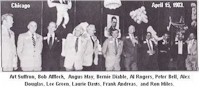 In this photo, from the left: Art Suffron, Dallas/Ft. Worth; Bob Affleck, Houston; Angus May, Chicago; Bernie Diable, Cincinnati; Al Rogers, Milwaukee; Peter Bell, Cleveland; Alex Douglas, Chicago; Lee Green, Cleveland; Laurie Davis, Chicago; Frank Andreas, Dallas/Ft. Worth and Ron Miles, Chicago.
(Note: Only 11 retirees appear in the photo – eds)
---
Memories from the past
DC-8 sets (Olympic) record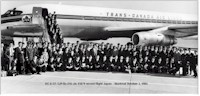 On October 3, 1964, a TCA DC-8 CF-TJP fin 816 c/n 45679 that had carried the Canadian Olympic Team to Japan makes a non-stop return flight to Montreal in a record time of 12 hours, 24 minutes.
Note: Our sharp eyed NL proofreader, Ken Pickford, added this comment regarding the photo;

"Just curious re the DC-8 photo (Fin 816) and the text. At first I assumed the photo showed the Canadian Olympic team mentioned in the text, but it obviously isn't as they're all Japanese and nearly all male. Looks like some Japanese youth charter group. Just wondering whether the original source says who the passengers were? And was that really the return nonstop Tokyo-Montreal flight mentioned prior to departure? (it's obviously Japan due to the JAL ground equipment near the nose). I'm amazed a DC-8 could operate TYO-YUL nonstop with what looks like a full load.. That's 6486 miles, at least 1000 miles further than any DC-8 operated in scheduled service (e.g. it's about 100 miles further than HKG-YVR). I could see it perhaps being possible as an empty ferry flight with favourable winds, but did it really carry all those passengers nonstop? I had at first assumed that the nonstop mentioned was a ferry flight, but if so, who are all those people in the photo?
Do any of our readers happen to be familiar with this photo and flight? It was gleaned from http://moments.aircanada.com/timeline/1964-dc-8-sets-olympic-record/
---
1938 at a glance
By the end of 1938, the TCA fleet consisted of five Lockheed Electras and nine Lockheed Super Electras. An adequate supply of spare engines and propellers was on hand to guarantee continual service.
The staff increased to 332 employees, and TCA continued to train new pilots and crews. A major repair and maintenance base was established in Winnipeg at the heart of the country, and a total of 2,086 passengers were flown in TCA's first year.
(Source: moments.aircanada.com/timeline)
---
1939 at a glance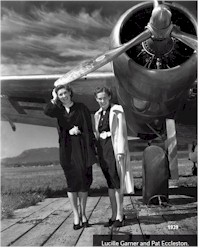 By the end of 1939, TCA had 497 employees and 16 Lockheed Super Electras. Airmail operations were extended to Moncton, New Brunswick, and improvements were made throughout the year to enhance the maintenance facilities in Montreal and Toronto.
TCA operated daily flights to Moncton, Montreal, Ottawa, Toronto, Winnipeg, Regina, Edmonton, Calgary, Lethbridge, Vancouver, Victoria and Seattle.
---
How RAPCAN got its start!
It all began with the Canadian Air Line Pilots Association - Retired.
Who started CALPA (R)?
Air Canada Captain - RCAF Squadron Leader - Vancouver Streetcar Motorman, Bob McRae - that's who!
The years passed rapidly, and AC and CPA pilots started reaching retirement age. Many false starts were made with regard to associations for retired airline pilots. Frank Smythe made a tryout of Vancouver. Bill Marr made similar efforts in Toronto. The early efforts were all slanted towards individual airline associations, as had been the ongoing case in the USA.
Bill Marr was a driving force and very definitely deserves credit for the ongoing work he did on behalf of getting CALPA (R) up and running. To get it started, Captain McRae (at his own expense) went to Atlanta to meet with Delta retired association members and those of Eastern Air Lines. Next he wrote over sixty retired members, asking them for their interest in the formation of such an organization. Miraculously, he got nearly 100% responses, even from Bob Smuck away down in New Zealand.
In 1975, he asked for and got a meeting with Captains Ken Maley and Bruce Yake, President and First Vice President of CALPA. They were most receptive to his proposals. Captain Bruce Yake, in a letter to Captain McRae dated September 10, 1975, requested Captain McRae accept the project to establish CALPA (R).
The founding meeting of CALPA (R) was held on the final afternoon of the CALPA Convention in Montreal on November 25, 1976. At that meeting Captain John Wright reviewed the resolution that brought Captain Bob McRae from retirement to organize CALPA (R) and then asked him to take the chair. Captain F.E.W. Smith was elected the first President and Captain Bob McRae the first. Vice President, Captain Bert Birch, the second.
The first CALPA (R) Annual General Meeting was held in Anaheim, California on November 20, 1977. Captain F.E.W. Smith in his President's Report stated "I hope a great many similar reports will follow in the years to come, that our organization will flourish as the medium through which men who have spent their working lives in the air will continue their lifelong associations and friendships. I believe there is a need for this.
A pilot's job is different from most occupations, being in part employment and in part a deep involvement in aviation and airplanes. Other people do not comprehend our way of life too clearly, we relate best to each other, and now that we are too old to drive through the high skies we should come together from time to time to enjoy our unique fraternity."
In 1996, after the breakup of CALPA into the Air Canada Pilots Association and the Air Line Pilots Association - International, in order to represent all airline pilots in Canada, RAPCAN came into being.

(Source: Rapcan.ca )
---
Extracted from the "Parts & Pieces" magazine issued July/August 1991.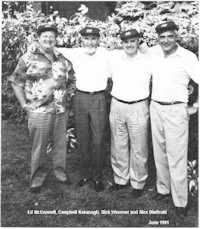 Collectively, 121 years' service was lost to Air Canada with the retirement of these four in June 1991.
From the left: Ed McConnell, Campbell Kavanagh, Dick Wesener and Alex Dimitraki.
---
Memories of Airtransit
David Wood published this memory -
Walter Ekiert and I were among the first "test" passengers of Airtransit. I remember that trip through Walter's note: "We catch a bus at the Bonaventure at 16:40 for 17:00 flight - arrive Ottawa 18:00, one drink at Holiday Inn, catch bus at 18:30, take off 19:00, return Bonaventure 20:00."