Delivery of C-GMWW – Canada's first B747-400
I love diving into any kind of history and, happily, we live at time when recorded history is readily available via video streaming services like YouTube.
It amazes me that, after seeing the film "Darkest Hour" depicting the events leading up to Winston Churchill's 'Never Surrender" speech, I was able to sit at my desk and listen to the actual speech. It follows that YouTube is one of the sources that I use frequently to gather material for this space.
While casually poking around YouTube one evening, I came across a great video taken by Paul Simpson inside the YVR Maintenance Hangar of the arrival of Canadian Airlines first B747-400 (C-GMWW Tail #881) in December 1990.
Although I am an original Air Canada employee and did not work in the YVR Ops Centre until late 2001, the video still brings back fond memories for me. Unfortunately, I have never met Paul Simpson, nor do I recognize any of the people in the video.
I did spend that last fifteen years of my career in this building and finished as an expediter working in the offices in front of the aircraft. If this video stirs nostalgia for me; I'm sure that it must be very touching for the people who were there at the time.
It would be great to hear from Mr. Simpson or any of the others who appear in his video.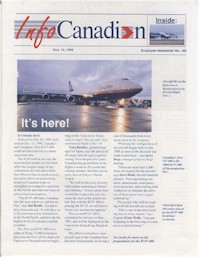 Click the cover at left story on the delivery from Info-Canadian Newsletter #180 - December 13, 1990.
Click the image below for Paul Simpson's video.
Note: The video begins with footage of Fin 635 a B767-300. Fin 881 enters the hangar at 3:35.