The DC-8 aircraft has been retired from commercial passenger service.
The last scheduled flight was CF-TIM fin #869 c/n 46035 as flight AC140 April 23, 1983 leaving Calgary at 17:40 arriving in Toronto at 23:10. On April 28, 1983 the aircraft was stored at Marana, Arizona until sold to ATASCO Leasing Inc December 29, 1984.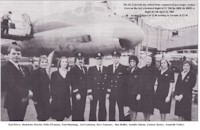 Here we have a photo of the crew of fin #869 at Toronto from the left:
Flight Attendants Karl Kriese, Madeleine Brochu and Polly O'Connor; Second Officer Paul Munnings; Captain Jack Coleman; First Officer Ross Emmans; Flight Attendants Ann Maltby, Jennifer Simon, Carmen Barnes and Jeannette Forbes, In-Charge.
The last charter flight ended at 10 minutes past midnight on April 24, 1983 when flight AC071 arrived at Halifax from Tampa.
The retirement of its passenger DC-8's is a historic event marking the end of an era which spanned 23 years since the airline took delivery of its first model (series 40, 133 passengers, later known as "DC-8 short") CF-TJD fin #804 c/n 45445 on February 7, 1960. The aircraft went into service on April 1, 1960, on the Montreal-Toronto-Vancouver route. Trans-Canada Air Lines had entered the jet age.
The aircraft, CF-TJD, was sold in 1, July 1977 to Templewood Aviation Sales Ltd, for lease to Air Celon registered as 4R-ACT. It had chalked up 21,401 landings and flown 46,166 hours.
CF-TJL fin #812 c/n 45640 had the highest operational data having flown 55,859 hours and landed 24,354 times when is was sold December 19, 1984 to Lift Air Foundation of Liechtenstein. The aircraft had several operators and was stored at Miami where it was damaged during a hurricane in August 1996.