C-GWKF - Almost 40 Years of Service
In June of 2017 my article in NL #1368 was about my pleasure in driving by Abbotsford International Airport (YXX) on my way to play Euchre with a group of friends on Monday evenings.
This week I noticed a Boeing 727 (Registration C-GWKF) sitting outside a hangar used by the University of the Fraser Valley for their Aircraft Structures Technician program.
There is just something about an aircraft parked in a remote setting that piques my curiosity. How many stories are contained within its fuselage?
I stopped and took a few pictures (see this issue's header) and immediately did a Google search of the registration when I returned home that evening.
As per www.planelogger.com, B-727-243 Serial No. 21270 Line No. 1231 first flew on November 4, 1976 and was delivered to Alitalia (I-DIRJ) on December 20, 1976 where is served until being acquired by People Express (N577PE) in January 1987 and later Continental Airlines (N17407).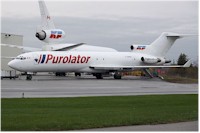 As has been well documented, the B-727 was gradually replaced by more fuel-efficient aircraft for passenger service but continued as cargo aircraft for the growing air cargo industry in the later part of the nineteen-nineties.
Kelowna Aircraft acquired the aircraft in January 2002 where it flew for Purolator Courier. As far as I can tell it flew until mid 2015 and accumulated almost 40 years of service in the air.
From the assembly team at Boeing to the various flight crews, passengers, cargo loading personnel and finally, students; this aircraft certainly has touched many lives.