Aeroquay One
On a recent trip to Cape Breton to visit family, I had some time to pass in YYZ and found myself reminiscing about my early days with Air Canada and my fascination with having the opportunity to work at Toronto (L.B. Pearson) International Airport.
I found a seat from where I could see the original DC-8 hangar (where Purchasing and Supply were once located) and the "747 hangar". I visualized where the Cargo facility, Terminal One (Aeroquay One) and Terminal Two had been.
In the early eighties, it was about a three-kilometre trip to deliver parts from 'Stores" to Terminal Two where Air Canada was the main customer. From the DC-8 hangar, we drove along a taxiway (Terminal Three has not yet been built) and then entered onto the tarmac and had to pass Terminal One very carefully on the way to deliver the part. Because "T1" was a unique design and was somewhat a squared circle in the middle of the tarmac, it was difficult to see a moving aircraft around the bend.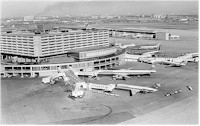 Construction on Aeroquay One began in 1957, and it was opened in 1964 by then Prime Minister Lester B. Pearson. It replaced the "TCA" terminal which had been built in 1948 but kept a feature of that terminal; it was possible for the public to access the rooftop and have a view the aircraft movement around at the airport. In today's world, this would probably not be possible due to security concerns.
Built to accommodate the growth of Canada's airline industry, it was operating beyond its capacity within a few years, and Terminal Two opened in 1973 to be Air Canada's hub facility.
A Google search of "Aeroquay One" returns quite a list of interesting historical information.
Following are just a few:
History of Toronto 'Pearson' International Airport at Wikipedia
Toronto Pearson Airport 1975 on YouTube
Torontoist Remembers: Aeroquay One
Historic Toronto