Fairchild Air Transport, Quebec 1926.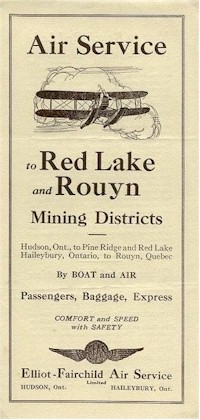 Timetable for Elliot-Fairchild Air Service. Last day of flight April 17, 1926 from Red Lake to Rolling Portage.
Elliot Air Service, 1928 was persuaded to enter into a partnership with Fairchild Airplane Manufacturing to serve Rouyn mining area vacated by Northern Air Service.
The merger did not survive. In 1927 the company was renamed Fairchild Aviation, Quebec.