Transair – NAMC YS-11
Probably the best part about being involved with the NetLetter is the feedback and comments that we receive from our readers. Thanks to your input, every story we write seems to lead to another story.
Our friend, Ken Pickford, who helps us with each NetLetter issue by volunteering his proof reading skills, sent in the following regarding the "aircraft restaurant" in Terry's Trivia article from NL #1395.
"The aircraft type is a YS-11, built by a consortium of major Japanese companies, a 60-seat twin-turboprop powered by two Rolls-Royce Darts, 182 built through 1974. In service 1965. Winnipeg-based Transair operated 2 factory-delivered YS-11's from 1966 until Transair's acquisition by Pacific Western Airlines in 1979.
Transair probably got a good deal on those aircraft. Sizable US regional carrier Piedmont Airlines (which merged with US Air in 1989) was the largest export customer with 20 plus a few acquired used. They used them on their short haul network along the east coast for a decade or more until the early 1980s.
Apart from the Mitsubishi Regional Jet (similar category to Embraer 170/190) which is still in the midst of its test program after several delays and now scheduled to enter service in 2020, the YS-11 remains the only airliner designed and built in Japan. As of 2017 only a few (single digits) were still in service with the Japanese military."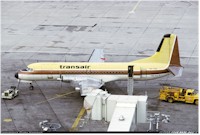 Terry adds the following:
"Among the employees at Transair's Churchill base the year the YS-11 entered service was a young ticket agent named Peter Mansbridge.
Instead of purchasing B-737s (three of which were acquired later), Transair purchased two YS-11 turboprops in 1968. These replaced the company's aging DC-4s and could be flown into small northern airports in a mixed passenger/cargo configuration. The YS-11s would remain in Transair's fleet until 1979."
I had written about Transair in NL #1352 but neglected to mention these two aircraft built by the Nihon Aircraft Manufacturing Corporation. Registrations CF-TAK (pictured) and CF-TAM would finish their careers as N110PH and N111PH flying for Mid Pacific Air of Hawaii.
Mid Pacific Air ceased passenger operations in 1988 but continued cargo operations until 1995. Unfortunately, the fate of these two aircraft seems to be unknown.
Additional information and links:

NAMC YS-11 at Wikipedia
History and photos at Yesterday's Airlines
History of Transair
Transair's YS-11's at Rzjets
Special thanks to Gary Vincent for permission to use this rare photograph of one of the two Transair YS-11's.