With permission via Larry Milberry/CANAV Books.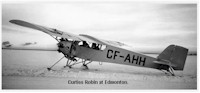 From the Leslie Corness collection.
Besides frequent and ever-exciting visitors, Edmonton was home to dozens of ordinary bush planes that plied the Mackenzie River Valley down to the Arctic coast.
The Curtiss Robin was a typical hard-working northern workhorse. CF-AHH was first registered in Canada in 1929. It served various Alberta owners into 1946, when it migrated to Hudson, Ontario to fly with Starratt Airways.
The last heard of CF-AHH was that it was with an Air Cadet Squadron in Winnipeg in 1950. Leslie caught it in this ideal view heading out from Edmonton on skis (tail draggers tend to look especially nice in a 'rear 3/4' view).
This is a typical shot by Leslie, where the day was cloudy. The result was nice even lighting with no harsh/distracting shadows. One of the truly delightful sources of information about any such early US-certified aircraft is the magnificent 9-volume set 'US Civil Aircraft Series' by the inimitable Joseph P. Juptner as fans everywhere have been leaning on Juptner for 'the good gen' since his series first appeared in 1966.
Any serious fan would appreciate this collection.