Bill Davidson shares this memory -
Good afternoon from Toronto, I look forward to each issue of the NetLetter, well-done chaps. In the latest issue was a note about stories & photos. I have one for you.
Around 1968, David Lloyd (VE3AW) a businessman in Toronto who helped the CNIB find used ham radios for the blind, heard that CP Air might have some funds to help a local hospital in Vancouver where the patients were not blind but were suffering from polio. I received my "Ham" license in 1966 (VE7BXO), and I turned into the contact man along with one of our Navigators, Harry Beardsal who was also a ham. The hospital was Pearson in south Vancouver, and most of the patients had polio. Many were in "Iron Lungs". Others were more mobile, they had smaller lungs which hung on their chest.
With the assistance of Ian Gray, President, we got funding and the cooperation of Vancouver maintenance (Ian was an engineer and headed maintenance as VP before becoming President). We needed equipment, so Harry & I went on a flight to Tokyo which landed at Haneda airport we went to Akihabara and bought a Yaesu multi-band ham radio. I went through my old radio log books and found Harry Beardsal's call sign; he lived in Burnaby; VE7ZQ.
Back in Vancouver, we bought a three-element Yagi antenna. The station was set up in a room in the hospital, and the call sign was VE7PAR (Pearson Amateur Radio). My first ham radio contact with VE7PAR was 21 July 1968 when living in Richmond.
The next big step was figuring out how someone who could not move could operate "Morse code" using a "keyer." Well, the guys in maintenance knew what they were doing. They made chest pads which fit on the outside of an iron lung with I think Velcro attachments to hold the equipment; they designed code keyers which could be activated with a mouth stick. They came in, rebuilt the room, installing all the equipment, antennas etc.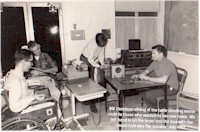 We talked to the Government Inspector who would do the testing of our students to check their proficiency in sending and receiving Morse code. I'm sorry I don't remember his name but he took to our program, and all the students passed their Morse code. That was my job, in the photo, you see me sitting at the table sending Morse code to those who wanted to become hams. My left hand is on the keyer, and the box with the round hole was the speaker.
At that time I was living in Richmond. I transferred to Toronto in 1971, and I was reassigned VE3CQU. My last contact with VE7PAR was 3 June 1972 when I was living in Mississauga. It was a memorable couple of years, the different airline departments working together for a worthwhile cause. A few of their names: Brian, Chester, Orv and Curly.
I was lucky to know and be a part of a super group of airline employees working on this project. As a result of this article, I'm wondering if any of the polio group are still alive. There was a graduation party, and Ian Gray came to the hospital to hand out the operating license to each graduate.
Back in those days, CP Air had their own "ham" radio club. A chap named Mike Dukelow was running public relations, and he would arrange for each CP ham to get a supply of QSL cards with current aircraft (DC-8-63) on the front and also have printed on the back of each card the usual radio info including call sign and address of the ham. All for free from the company.
Two photos attached, reference on the back of the card, "to assist handicapped."