Montréal–Trudeau Airport - An old friend
I have always had a fondness for landing at YUL. I was born in Montreal but moved to Toronto when I was a young adult and began my airline career there.
Of course, I frequently returned to visit family and learned to appreciate Montreal more as a visitor than during my early years.
I enjoy viewing the landscape on descent into YUL, particularly from the port side of the aircraft approaching from the North. There is something unique about the St. Lawrence River winding around the Island of Montreal, with the South Shore in the distance, while the Olympic Stadium (many fond memories of the Expos) and downtown Montreal come into view.
Autoroute 40 (the T-Can) appears below the aircraft and we seem to be following along with the traffic into the city of Dorval.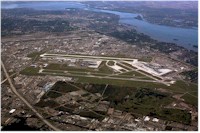 "Dorval Airport" was inaugurated on September 1, 1941 on the site of the Dorval Race Track and, during the war years, was used by the Royal Canadian Air Force Ferry Command to deliver U.S. made warplanes to Great Britain.
There may be some irony in that Montréal-Trudeau International Airport is named for a Prime Minister who could have played a part in its eventual closing had the Mirabel project been successful. Fortunately, after more than a decade of expansion, its story continues.
Additional info:
70 Years of Success70 Years of Success at www.admservices.ca
Landing at YUL videos on YouTube