July 4, 2018 - PWA Edmonton Mini Ramp Reunion.
Dennis Erickson posted this information on www.pwareunion.com on July 4, 2018 -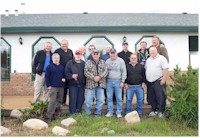 History has been made at Fawn Meadows RV Resort Delburne AB. First annual Pacific Western Airlines YXD ramp reunion has been held and was very successful with many great airplane stories of properly loading an airplane on time.
In the early 70's, the airline service into Canada's north was booming. Communities such as Inuvik, Yellowknife, Norman Wells, Resolute, Cambridge Bay, Uranium City and others saw strong growth. PWA saw this opportunity and put cargo aircraft such as 732 and later 742, the 727's, Hercules and Lockheed Electra freighter aircraft. It was this ramp crew that loaded and off loaded tons of cargo, baggage and mail. In terms of tonnage, it was probably the biggest ramp operation in the system.
Add into that the 20+ daily Airbus flights and regular domestic schedule, this crew was some of the hardest working guys in the system.
(Note - If Dennis would care to supply some names, we will let you know - eds)