Supermarine Spitfire – An Honoured Place in History
When I chose to feature this historic aircraft for this edition of the NetLetter, I soon realized that there is far too much information available to condense into a few short paragraphs.
The 'Spitfire' was designed to be short range interceptor which proved to be of significant worth during World War II. It emerged as the backbone of the fighter fleet of the RAF and Allies during the Battle of Britain where it had a higher victory-to-loss ratio than the more numerous Hawker Hurricane.
Primarily deployed by the RAF, RCAF and USAF, it served with distinguished honour and remains popular with aviation history enthusiasts and preservationists.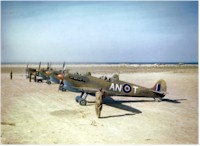 Pictured is the Spitfire VC 417 RCAF Squadron in Tunisia in May 1943.
Please click on the following links more on the story and videos of the 'Spitfire'.
Spitfire development at Wikipedia
List of surviving Supermarine Spitfires

Canadian Warplane Heritage Museum
Canadian Spitfires at SkiesMag.com
Spitfire videos on YouTube