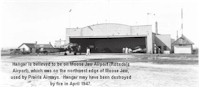 The hangar is believed to be on Moose Jaw Airport (Rosedale Airport), which was on the northwest edge of Moose Jaw. Hangar may have been destroyed by fire in April 1947 (Vancouver Sun) .
Photos were taken by Douglas A.B. McPherson when he was assigned to the Moose Jaw Flying Club for R.C.A.F. training – 03 March 1941 – 26 April 1941.
Doug McPherson was the first student of the Kamloops Aero Club to solo at about 07:30 hrs. – 15 June 1939. The club's instructor was Terence H. Finney. After serving in WWII, and being "missing in action", Doug returned to Kamloops, in November 1945, and was provisional president of the Kamloops Flying Club, before re-categorizing, as instructor, with the Aero Club of B.C. He then instructed his first trainees on the Tiger Moth aircraft in late January 1946.
McPherson moved his family to Victoria, B.C, in November 1948, where he may have joined the Victoria Flying Club.
Sincerely, Neil Burton – 16 October 2018