CP Air closes base.
CP Air will close its Flight Attendant base in Montreal May 1, 1984 and move 85 flight attendants to Toronto and Vancouver.
(Source: AC Horizons issued March 1984.)
---
CP Air buys Eastern Provincial.
Canadian Pacific Airlines has announced plans to purchase Eastern Provincial Airways and its affiliate, Air Maritime Ltd., from Newfoundland Corp. for $10 million, subject to approval of the Canadian Transport Commission.
Eastern Provincial will continue to be headquartered in Atlantic Canada and will service its regional structure as a separate carrier under its own name and livery. It will be operated as a wholly owned subsidiary of CP Air.
Employee groups will not be amalgamated. EPA has some 850 employees and CP Air approximately 7,300
(Source: AC Horizons April 1984)
---
The airplanes of the 1930's and 40's certainly were durable. The Barkley-Grow light twin was introduced in Canada in 1939 with Yukon Southern Air Transport. Along with other operators, YSAT merged early in WWII into CPA, in which markings Leslie Corness frequently saw CF-BLV.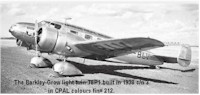 "BLV", T8P1 built in 1938 c/n 3, remained in Edmonton when acquired by CPAL on December 23, 1943 assigned fin # 212. Later sold to H.R. Peets of Edmonton on November 29, 1949 and then by Associated Airways in 1951, then Associated was absorbed by PWA in 1956. Sadly, it came to a harsh end in a January 12, 1960 crash at Peace River, Alberta. This is about the best basic angle for shooting a Barkley-Grow, Beech 18, any Lockheed twin, DC-3, or most "tail draggers". Airplane hobby photographers understand such fundamentals.
(Source: Leslie Corness collection via Larry Milberry/CANAV Books & CPAL "Its History & Aircraft by D.M. Bain)