Winnipeg Museum Prepares to Take Flight to New Location.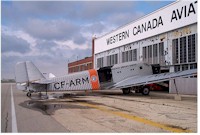 After over thirty years in a former Trans-Canada Air Lines maintenance hangar, the Royal Aviation Museum of Western Canada (once the Western Canada Aviation Museum) is closing for two years in preparation for a move into a new display hangar in Winnipeg.
The aircraft collection has been dispersed to several locations around southern Manitoba, including the Commonwealth Air Training Plan Museum in Brandon. Other artifacts are in storage.
The hangar, a significant piece of Canadian aviation history, will be torn down to make way for a new maintenance hangar, where the RCAF's C-295 search and rescue airplanes will be inspected. The hangar includes the original Stevenson Airport passenger terminal.
(Source: CAHS National October 2018 Newsletter)
---
Avro Lancaster FM104 moving to Victoria.
The British Columbia Aviation Museum is the successful bidder to receive an Avro Lancaster bomber from the City of Toronto. The Lancaster FM104 will be moved to the museum in North Saanich near Victoria International Airport over the next few months, and restoration will start immediately.
The long-term goal of the museum is to restore the aircraft to flying condition in partnership with Victoria Air Maintenance, a firm of vintage aircraft restorers located near the museum.
"The Avro Lancaster is an iconic aircraft with a distinguished record in war, where it was a major contributor to the strategic bombing offensive in World War II, and in peace, where it served for many years on both coasts in reconnaissance and search-and-rescue missions," said John Lewis, president of the BC Aviation Museum.
(Source: wingsmagazine.com)
Lancaster FM104 Has Arrived!
The five tractor trailer loads transporting FM104 from Ontario to Vancouver Island have arrived at the British Columbia Aviation Museum. The aircraft components are stored onsite and the public will be able to see much of the aircraft.
The detailed restoration plan is being developed. Stay tuned and visit the Museum to see the progress.
(Source: British Columbia Avaition Museum website)
---
Air France has reached a pay deal with unions, paving the way for the Air France-KLM group to move on from a months-long labor conflict and focus on its long-term strategy.
The agreement comes less than a month after Benjamin Smith, the group's new CEO, also took over as temporary CEO at Air France, kicking off discussions with labor representatives in a bid to resolve the long-drawn out pay conflict.
Smith, who took over as group CEO September 17, gained a reputation for being a successful negotiator with unions at Air Canada, where he was previously COO.
(Source: atwonline.com October 19, 2018)
---
Gaza's gateway.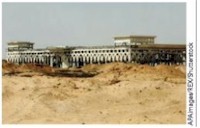 It is 20 years since one of the world's shortest-lived airports began operations. Opened by US President Bill Clinton in November 1998, Yasser Arafat International - gateway to the enclave of Gaza-lasted less than three years before Israel bombed its runway and control tower in 2001 in retaliation for Hamas attacks.
Although for several years staff continued to turn up, manning check-in desks as a point of principle, the terminal has since been ransacked and - like Palestinian Airlines of a hope for an air connection to the outside world - lies in ruins.
The airport was the hub of flag carrier Palestinian Airlines. However, although the airline still exists, its two Fokker 50s have been wet-leased to Niger Airlines. and it has not carried passengers for years.
The current turmoil in Gaza means flights are unlikely to resume at Yasser Arafat International any time soon.
(Source: Flight International September 29, 2018)
---
Bear with us.
From Canada's remote Northwest Territories comes a cautionary tale on the dangers of mixing aviation and wildlife.
Passengers on a Bell 407 helicopter supporting a trail remediation project spotted a bear as the chopper approached its destination on 19 July, 2018,and the pilot swung the aircraft around to "facilitate a closer look'' for those aboard, according to the Transportation Safety Board of Canada.
But the helicopter entered a descending right turn which the pilot was unable to arrest, and the machine collided with the ground, causing the main rotor to slice off the tail boom.

Passengers and crew managed to exit, presumably relieved at having survived what could have been a horrific air crash, right up until they were stranded outside in the middle of nowhere; with a bear.
(Source: Flight International - September 11-17, 2018)