Fired and Forgotten?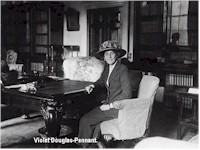 Who remembers Violet Douglas-Pennant among the list of female aviation mold-breakers of the early 20th century?

A new book coincides with the 100th anniversary of the commandant of the short-lived Women's Royal Air Force being fired from her post after just 14 weeks, following allegations she made about the way the service was being run. The WRAF itself lasted only two more years before being disbanded.
The aristocrat spent much of the rest of her life trying to get the government to admit it had made a mistake in sacking her, and stained her reputation. Several newspapers and establishment figures supported her efforts, even after her death in 1945, aged 76.
Author and historian Susan Leona Fisher spent 10 years researching The Rise and Fall of Violet Douglas-Pennant.
Details at SLFisherAuthor.co.uk
(Source: Flight International October 15, 2018)