Another aircraft restaurant.
Farmer Builds Full-Size A320 Replica.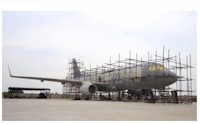 When Chinese garlic farmer Zhu Yue had to admit to himself that he would never achieve his lifelong dream of learning to fly, he did what he considered to be the next best thing. The ambitious and apparently prosperous agriculturalist and welder built a full-scale steel model of an A320 in his hometown of Kaiyun. "I hit midlife and realized I couldn't buy one, but l could build one," he said.
It's not clear what type of aircraft Zhu thought he might want to buy but the $374.000 he spent on the enormous model of Airbus's bread and butter airliner should have given him a lot of options. Nevertheless, he forged ahead with the complex project, using an 80th-scale model and photos to guide him.
The result is a somewhat faithful replica that weighs more than 130,000 pounds. Zhu plans to use the replica as a restaurant where diners will be seated in 36 first class seats. "We will put down a red carpet so every person who comes to eat will feel like a head of state," Zhu said.
(Source: avweb.com - October 28, 2018)