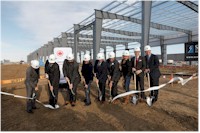 Air Canada broke ground October 25, 2018, for a new facility that will house their ground support equipment service and cargo teams at Edmonton International Airport (YEG)
This facility will allow Air Canada to further enhance their operational capabilities and reinforce their commitment to Alberta's capital city. The new facility is expected to open in September 2019.
(Source: ACDaily & www.newswire.ca - October 25, 2018.