Coastal Airways BC, flying as Royal Airlines, was established in 1931 by Richard Gosse of BC Packers,.Victoria's Robert Pim Butchart, and J.H. Tudhope, former Commanding Officer of the RCAF Jericho Beach Station.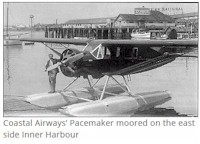 The airline flew passengers and mail with a Bellanca Pacemaker, CF-AND and a Fairchild 71, probably CF-AJP, from The Causeway in front of The Empress Hotel to Vancouver on a passenger/airmail service.
The service had a very short lifespan due to practical inexperience and internal dissent.
(Source: www.victoriaharbourhistory.com)