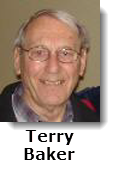 Terry Baker, co-founder of the NetLetter scours the internet for aviation related Trivia and Travel Tips for you, our readers, to peruse.
In NetLetter #1335, we gave a source for baggage information at www.seatguru.com and other airline info at
www.seatguru.com/browseairlines/browseairlines.php and now we received this message from Andrea -
I noticed you have a link to SeatGuru on your site and so I figured you'd be interested in hearing about our site Upgraded Points which your visitors may also find useful.
Here's the link - upgradedpoints.com
We publish a huge number of ways to save money on air travel; from tips/tricks for finding cheap airfare to the best ways to maximize credit card rewards and even fly for free.
We launched in 2016 and the site has been going strong attracting nearly 10k subscribers and industry acclaim from the likes of Huffington Post, Fortune, Tripsavvy, Vice and many more.
Thank you in advance.
Andrea