Final part of the Canadian Pacific History started in NetLetter #1403 -
When the war began, C.P.R. made plans to service and operate the bombers being flown to England and today it has a large servicing and operations organization of over 300 persons in Montreal. One cannot be in Montreal long without seeing buses marked "C.P.R. Air Service." Neither can one be in Montreal long without seeing pilots wearing the insignia for "Trans-Atlantic Airways." Although the planes being flown to England are bombers, the ferrying is strictly a commercial operation under control of C.P.R. The R.C.A.F. and R.A.F. have nothing to do with it.
How Canadian air transport expansion will affect the airlines in the U.S. is a speculative matter. Because of its geographical position, Canada has a strategic advantage in over-ocean flying. It is also in the best position insofar as air traffic to Alaska is concerned.
To date Trans-Canada Air Lines has not been competitive with U.S. airlines to any substantial extent, but Trans-Canada's projected New York-Toronto route should be a busy and profitable one in the future. When Trans-Canada extends to Whitehorse, Yukon Territory, the Canadian line will have the shortest and most direct route to Alaska from New York City.
(Source: Financial Times Archives - 1941)
---
Further to the article on Jack's Jenny by Terry Champion in NetLetter #1405 -
November 5, 2018 - From the desk of Captain Terry Champion (retired) - RE: Capt Jack Johnson's Jenny.
The plan for the placement of the Curtis Jenny at the Museum is to move an airplane or two away, in order to open up a wide enough space to create a prominent location. This will be done early in January, the wings attached and the display built. The alternative platform will not be needed so the funding target has been reduced accordingly. Including the acquisition cost and installation of the display, the target is now $8,000.
The total donations received so far is $2,925.00 with some firm pledges still to come. I am working on some funding alternatives besides PWA employees, but at any rate the PWA employees will receive recognition at the display. The Jenny funding appeal will be included in the Museum's external and internal communications and we can stretch the campaign out longer than originally planned.
Cheers, Terry
(Source: pwareunion.com)
---
Found in the "Info Canadian" magazine.
Issue dated June 1987.
The Children's Miracle Network Telethon was held on May 1987 weekend raising over $39 million for 160 children's hospitals in Canada, USA, Mexico and Australia.
In conjunction with Osmond Foundation, eight Canadian cities took part. Canadian Airlines employees from Calgary to St. John's supported the telethon. In Calgary, the airline matched the employee donations. In the two cities in Atlantic Canada the Company donated 50 cents for every piece of luggage checked for two weeks prior to the telethon. We have a photo of the Calgary team,
Back row from the left: Richard Gardner, Doug Taylor, Marika Janoveik, Peter Janoveik, Kathy Smith and John Morris.
Front row from the left: Marnie Relyea, Beverly Scott, Ken Smith, Pat Miechkota, Connie Plenert and Gail Abramoff.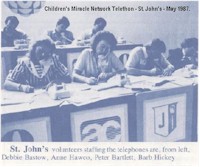 Here we have the St. John's team from the left: Debbie Bastow, Anne Hawco, Peter Bartlett and Barb Hickey.
---
Issue dated July 1987.
Eight former PWA employees who, during 1987, will have completed 25 years' service with the airline, were honoured at a dinner held in Calgary.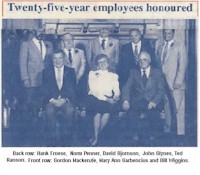 In this truncated photo are: Hank Froese, Supervisor Maintenance, Calgary; Norm Penner, Airport Service Manager, Toronto; David Bjornson, Maintenance Crew Chief, Winnipeg; John Glynes, B737 Captain, Calgary; Ted Ranson, V.P. Passenger Charters, Vancouver, Gordon Mackenzie, B-737 Captain, Calgary; Mary Ann Garbencius, In-Flight Services, Edmonton and Bill Wiggins, Maintenance Chief, Vancouver.
---
Dave Hodge, former host of 'Hockey Night in Canada' and sports director for a Vancouver radio station, presented plaques July 18, 1987 on behalf of the Canadian Cancer Society to a group of Vancouver employees. In making his presentation, he praised the employee group for contributing their time and energy in the battle against cancer.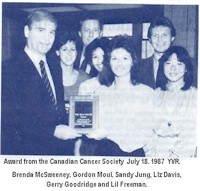 Accepting the award from Hodge, are: Brenda McSweeney, Revenue Accounting Clerk: Gordon Moul, B-737 Captain; Sandy Jung, Personnel Administration Coordinator; Llz Davis, Benefits Administration Assistant; Gerry Goodridge, Manager, Public Relations B .C. and Lil Freeman, Pesonnel Administration Coordinator.
---
Issued August 1987.
Canadi>n Partners say hello!
All of the employees of Ontario Express Ltd., The Canadi>n partner airline in Ontario, were on hand for this photo which appeared in a Toronto newspaper. Part of the company's Jetstream 31 fleet is positioned in the background. The company began operations on July 15, 1987.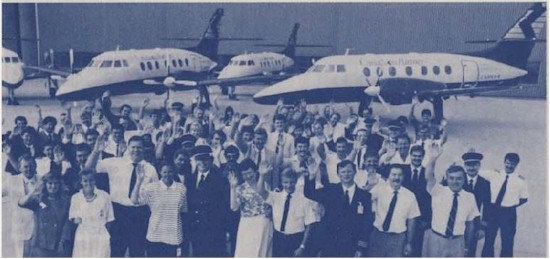 ---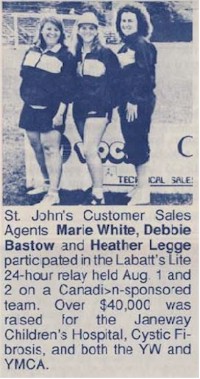 St. John's Customer Sales Agents participated in the Labatt's Lite 24-hour relay held August 1 and 2 on a Canadi>n-sponsored team. Over $40,000 was raised for the Janeway Children's Hospital, Cystic Fibrosis, and both the YW and YMCA.
In our photo we have Marie White, Debbie Bastow and Heather Legge.