Oh, Canada!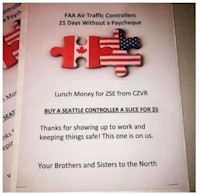 In the U.S., air traffic controllers are working without pay while the President holds out for money to construct a wall across the southern border. Meanwhile, on the nation's northern border, Canadian air traffic controllers are demonstrating what it means to be good neighbors.
Air traffic controllers in New Brunswick and Newfoundland sent 32 pies to their counterparts in Ronkonkoma, N.Y., on Friday — the evening before the federal government shutdown became the longest in U.S. history. The government went into partial paralysis December 22.
Canadian controllers from the east to west coasts have been sending pizzas to their American colleagues. Airport workers at Montreal-Pierre Elliott Trudeau International Airport in Montreal have reportedly fed unpaid employees at LaGuardia airport while their Canadian colleagues in Vancouver have phoned in deliveries to air traffic controllers in Seattle.
(Source: Microsoft News January 13, 2019)

---
New rules for operating a drone.
Transport Canada, on January 9, announced new rules governing the use of small unmanned aircraft, or drones, that introduce basic and advanced categories of drone operations, both requiring owners to register their aircraft and obtain a pilot certificate.
(Source: ATW Daily News January 11, 2019)
---
Nationair 1984 - New airline established.
Former employees of Quebecair, Nordair and Air Canada have formed a new airline, 'Nationair', headquartered in Quebec City.
Operations are expected to commence on December 19, 1984 with two DC-8 aircraft in 252 seat configuration serving southern destinations from Montreal during the winter season and Europe in the spring and summer months. The director of flight operations and the chief pilot are both former employees of Air Canada.
(Source: AC "Horizons" magazine October 1984)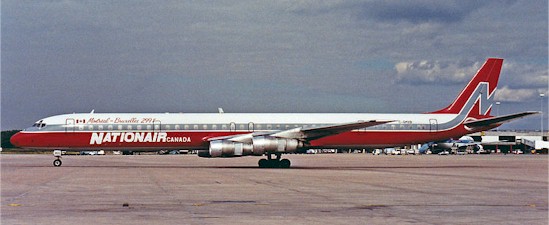 Photo by Ken Fielding on Flickr
Andre Lizotte, former President of Nordair Ltd., has been appointed Chairman of the Board for Nationair, a new Canadian international charter carrier. Andre St. Denis, formerly Air Canada's treasurer and a Nordair director, has been appointed to Nationair's Board.
(Source: AC "Horizons" magazine November 1984)
(Tragically on July 11, 1991 all perished when their DC-8 crashed in Jeddah, Saudi Arabia. - eds)
---
The Cape Air Mail.
Imperial Airways D.H. "Hercules" City of Karachi, arriving at Capetown on December 21, 1931 with the special Christmas air mail direct from England. The mail left Croydon on December 9, 1931.
(Source: Flight archive 1932 page 0055)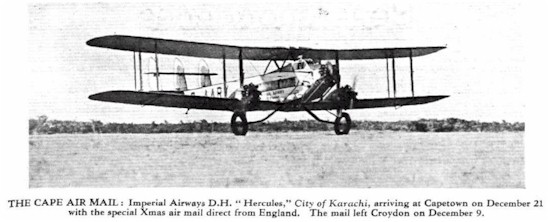 ---
Heathrow wants to add 25,000 flights a year ahead of third runway.
London's Heathrow Airport has opened an eight-week consultation on its planned expansion that includes a proposal to add up to 25,000 additional flights a year through more efficient use of its two existing runways, ahead of the opening of a third in 2026.
(Source: ATW Daily January 8, 2019)