Two of my friends recently left for a 3 week vacation in Mexico, and share this -
We have an almost three year old granddaughter, Isannah, that we are leaving behind.
She is quite used to meeting with her Nana and sometimes her Papa too, at least a couple of times a week.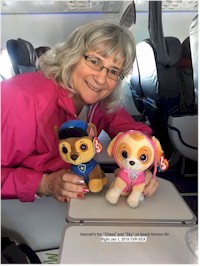 Nana is so worried that Isannah isn't going to understand that we are going to be away for 3 weeks, so she has devised a plan for that. Isannah loves "Paw Patrol", a kid's cartoon about a team of Puppies that are out saving and helping the world one small adventure at a time. Anyways Nana has packed 2 of Isannah's favorite stuffies of the 2 main characters of the show, "Chase" and "Sky", and she is going to take pictures of them as we wander along on our adventure. And then we messenger/e-mail them to Isannah, and having her Mother read the story or challenge that's attached to each picture out to her.
So, Nana has taken pictures of them: when we left the house, on the ferry, at the airport watching the planes and as we boarded the plane. You get the idea. Now she is taking a picture on the plane before lift off… the stewardess and everybody around us notices what she is up to...
The flight attendant is a Nana too, and she is so tickled with Nana's plan. She grabs "Sky" and "Chase" and takes them up to the front of the plane and has the 2 pilots pose for a picture in the cockpit with the stuffies.
Nana is so happy and the picture is awesome. Anyways I may mention them once in a while, but if you really want to follow along with the adventures of "Sky" and "Chase", you'll have to get a hold of Isannah, and I'm sure she would be happy to add you to her 'blog' as well, LOL.
(Many more photos are being sent showing "Sky" and "Chase" posing in various places (ie. on a bus), sitting below a statue, at a supper table and on the beach etc. – eds)