Formation flying.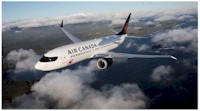 As the Learjet 25B passed in front of the sun, it cast a shadow on the Boeing 737 MAX 8 during our recent Air-to-Air photo shoot.

According to Brian Losito, Air Canada Corporate Photographer, the pilots have special skills and experience in formation flying.
The photo platform and target aircraft fly at a low level while dealing with moderate to high G-forces.
(Source: The Daily February 20, 2019)