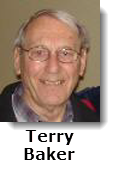 Terry Baker, co-founder of the NetLetter scours the internet for aviation related Trivia and Travel Tips for you, our readers, to peruse.
Australia departure tax.

The Passenger Movement Charge (PMC) is a AUD 60 cost for the departure of a person from Australia for another country, whether or not the person returns to Australia. PMC is collected at the time a ticket is sold to a passenger and then forwarded by the carrier (airline carriers, shipping companies and air charter operators) to the Department.
(Source:abf.gov.au)
---
WDL: we're definitely lost

German operator WDL Aviation took a few British Airways passengers on a surprise visit to Edinburgh on 25 March — the surprise being that they had paid to fly to Dusseldorf.
The BAe 146, departing from London City airport, wound up in the Scottish capital after an administrative mix-up.
Some passengers were unaware of the error until after the aircraft landed, having apparently missed some of the clues, such as the complete absence of the North Sea. Of course, the whole episode has been lent a special irony by WDL's own slogan on its website, which confidently boasts: "We're going your way."
(Source: Flight magazine April 9 - 12, 2019)
---

Interline Allstars have these deals, with many more on their web site; www.InterlineAllstars.com
Celebrity Solstice
7 Day Alaska Inside Passage
From $84 per day
Seattle, Ketchikan, Endicott Arm, Juneau, Skagway, Cruise Inside Passage, Victoria/Canada, Seattle
2 departure date: May 17 - 24, 2019
Prices From:
Inside $589 Ocean view $759 Balcony $829 Suite $2199


Celebrity Summit
10 Day Bermuda
From $60 per day
Bayonne/Cape Liberty, King's Wharf, Boston, Bar Harbor, Bayonne/Cape Liberty
1 departure date: May 26, 2019
Prices From:
Inside $598 Ocean view $749 Balcony $1149 Suite $2929*
Price May Vary By Date
Celebrity Equinox

7 Day Caribbean
From $81 per day
Fort Lauderdale, Key West, Costa Maya, Cozumel, Cayman/George Town, Fort Lauderdale
1 departure date: Jun 1, 2019
Prices From:
Inside $569 Ocean view $679 Balcony $679 Suite $1749
Celebrity Constellation

9 Day Mediterranean
From $125 per day
Barcelona, Toulon, Nice, La Spezia, Rome/Civitavecchia, Naples, Kotor, Split, Venice/Italy
1 departure date: Jun 19, 2019
Prices From:
Inside $1123 Ocean view $1648 Balcony $2841
Celebrity Edge (new ship)
10 Day Mediterranean
From $131 per day
Rome/Civitavecchia, Naples, Palma de Mallorca, Barcelona, Monte Carlo, Santa Margherita Ligure, La Spezia, Rome/Civitavecchia
1 departure date: Aug 30, 2019
Prices From:
Inside $1311 Ocean view $1836 Balcony $2211
Celebrity Eclipse
7 Day Alaska Inside Passage
From $142 per day
Vancouver, Cruise Inside Passage, Sitka, Hubbard Glacier, Juneau, Ketchikan, Cruise Inside Passage, Vancouver
2 departure date: Jul 7, 21, 2019
Prices From:
Inside $996 Ocean view $1379 Balcony $1379*
Price May Vary by Date
Please note all pricing shown is USD
Please call for CAD pricing 1-800-920-5411
---
Memorable BNB accommodations.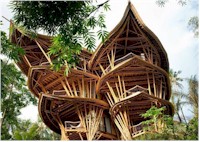 Why settle for a bamboo hut when you could rent an entire bamboo palace? Spanning an incredible six stories, this remote property is both one-of-a-kind and completely luxurious.
(Source: MSN News.com)
---
CANADA-US – how the world was split up. (1945).

As a result of recently held conferences Canada and the United States have agreed on a two to one ratio of airlines operating with traffic between the two countries, Trans-Canada Air Lines will operate after the war seven routes into the United States and Alaska and American airlines operators will fly 14 routes into Canada. Currently the ratio is eight to one in favour of american airlines operators. On a trans-oceanic basis. Minister Howe reported a trans-Atlantic service, a trans-pacific service and a West Indian and Latin-American route.

The Atlantic route will be operated on a daily basis each way via Newfoundland from Montreal to London. This route now flown by Trans-Canada Air Lines thrice weekly each way in converted Lancaster bombers.

The trans-pacific route will be from Vancouver via Honolulu to Australia and New Zealand. The West Indian and Latin-American route from Montreal or Toronto will be several times weekly to Bermuda, and via Miami to the British West Indies and Central America, with terminus in Trinidad. All these routes will be operated by government owned TCA or its subsidiary companies.

Traffic between Canada and the United States is now using one route, Toronto to New York, three times daily each way. Minister Howe outlined six additional routes are to be operated by TCA, from Halifax to Boston; Toronto to Cleveland; Toronto to Chicago, with no stop at any Canadian point within 40 miles of Detroit; Port Arthur, Ont., to Duluth; Victoria to Seattle and Whitehorse, Yukon, to Fairbanks, Alaska.