Dates in Air Canada history
1985 - January 15, Inaugural service between Toronto - Bombay/Singapore.
1985- December 14, Inaugural service between Toronto - St. Lucia using B-767 equipment.
1986 - February 2, "Executive Class" service launched in B-767 aircraft.
1986 - April 27, Service between Toronto - Manchester U.K. via Glasgow with B-747 equipment.
1986 - June, Service between Toronto and Manchester U.K. direct with L1011 equipment.
1987- April 26, Service from Toronto - Vienna resumed, previously served from May 1, 1959 to March 26, 1977.
2000 - November 16, Service between Toronto and Sao Paulo and Toronto and Buenos Aires commenced.
2003 - December 3, Service launched to Lima and Santiago.
---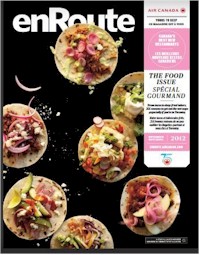 Here is the cover of the enRoute magazine issued November 2012.
(Source: enroute.aircanada.com/en/magazine/past-issues)
---
Extracted from the "Parts and Pieces" magazine issue dated June 2003.
These are some of the retirees that stepped aside to reduce potential lay-offs to younger Stockeepers due to the downsizing of the Purchasing & Supply branch.
Seen in our photo are I.A.M. Chief Steward Neil McGlinchy, Chauffeur John Hore leaving June 1, Lead Stockkeper at FSES Real Murphy, Stockkeepers Jim Biggs, Vincent Floccari, Robert B-Bob Gagnon, Ian Tyer, Donato Caivano, Gilles Palmieri, Barry Tremblay, Errol Chatham, Lead Stockkeepers Bill Braidwood, Ted Thurston and Bill Robson. Absent from the photo is stationery Stockkeeper Steve Chatham.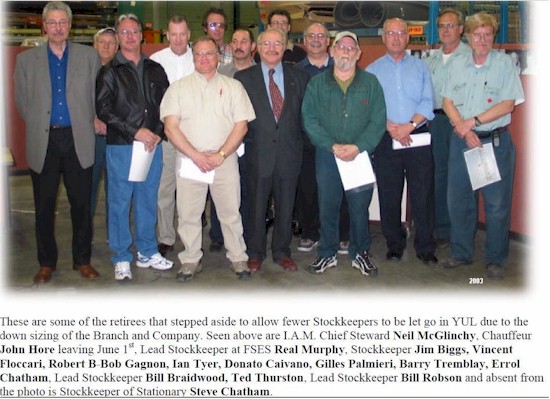 ---

From the "Horizons" magazine.
Issue dated October 1985.
A group of European employees take the opportunity to hoist the Air Canada Rondelle atop Mount Spirstock (7,152 feet) in central Switzerland. The third annual hike was organized by Rolf Weinmann, Manager, Switzerland, a strong believer in 'Participation'.
This 1985 year's summit surmounters are, back row, from the left: Ilona Stickler, Passenger Agent, Frankfurt; Joan Lovegrove, Passenger Agent, London; Mr. and Mrs. Sieben, South African Airways and Continental Airlines, respectively; Heidi Lang, Reservations & Sales Office Supervisor, Frankfurt and Rolf Weinmann.
Front row, from the left: guests Miss and Mrs. Christener; Passenger Agents Taili Englert, Frankfurt; Shirley Dunn, London; Martina Steffl and Marion Linder, Frankfurt.
---
The Winnipeg Pionairs' executive preparing for a busy season, the executive for the 1985-86 term includes President Winnie King, Vice Presidents Maurice Camyre and Carol Malec, Treasurer Mary Vanstone and Secretary June Morris.

(No photo available - eds)
---
Issue dated November 1985.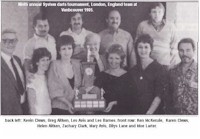 The ninth annual system darts tournament was held at the Airport Resort Hotel in Vancouver. The event was well attended, with some 180 employees and family members participating. In total, 35 teams battled it out, but London hit the winner's circle in both the men's and ladies' events, despite stiff competition from Vancouver and Winnipeg.The 1986 event will be held in St. John's towards the end of October.

Shown at the awards presentation are, back row, from the left: Kevin Clews, Greg Aitken, Les Avis and Les Barnes.

In the front row are, from the left: Ken McKenzie, System darts chairman; Karen Clews, Helen Aitken, Zachary Clark, General Manager; B.C. and Pacific Northwest, who presented the trophy; Mary Avis, Dilys Lane and Moe Larter, chairman of the host committee.
---
Issue dated January 1986.
The wind-up meeting of the 1985 Employee Campaign for Funds was held in the Queen Elizabeth Hotel in Montreal on December 17, 1985. Some 24 employees representing every branch in the company were on hand to receive trophies and plaques on behalf of their respective groups in recognition of their efforts to achieve the goals established at the beginning of the campaign. Annual contribution for 1985 was $687,677.00.
Employee representatives received plaques indicating the percentage of employee participation in their respective areas and branches. In our photo from the left, are: Yvette Ste-Marie, General Clerk, Human Resources; Sylvie Lefebvre, Secretary, Cargo; Monique Booth, Secretary, Law; Ed Spaiches, Manager, Telecommunications, Central & East, Computer & Systems Services; Jeannine Rivard, General Clerk, Marketing & Planning Support; Jack Kantor, Vice President, ln-Flight Service; Pauline Noel, Executive Secretary, Passenger Marketing - International; John Gomes, Senior Economic & Pricing Analyst, Finance; Lynda Bowles, Customer Relations Representative, Transportation Services; Bob Doret, Director, Processes & Program Development, Facilities & Supply; Johanne Legault, Secretary, Government & Public Affairs and Rhanda Spotton, Public Affairs Assistant, Sales & Service - International (U.S.).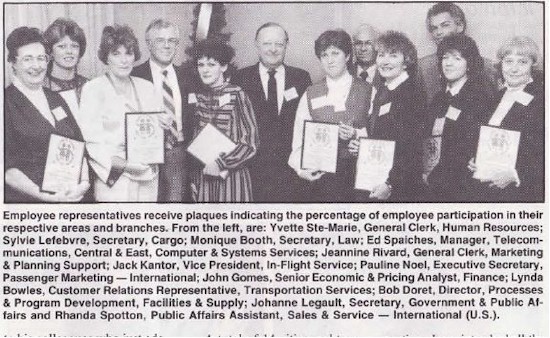 ---
Issue dated February 1986.

That is entertainment.

With 50th anniversary celebrations just around the corner, ACRA and System event representatives had a full slate of topics to discuss at their annual meeting held recently in Montreal.

Back row, from the left are: Jim Miller, Noel Ebden, Butch Butchart, Bernie Allardyce, Bernie Curwin, Bill Kent, Jack Inouye, Bill Sansom, Fred Boudreau and David Paxton.

Middle row, from the left, are: Ken Rodgers, Ken Mackenzie, Dave Childs, Keith Windsor, Chris Pulley, Roger Bernard, Michael Gargouzi, Bob Preiss, Joe Holmes, Crispin Colvin, Barry Drinkle, Evan Quick, Gil Gilbert, Dan Thibault, Jim Batten, Hugh Riopelle, Brian Connolly and Michael McHenry.

Sitting, from the left, are: Barbara Bernoth, Diane Drury, Amy Amendola, President Pierre Jeanniot who addressed the meeting, Gisele Baird, Cory Smith and Barbara Peterson.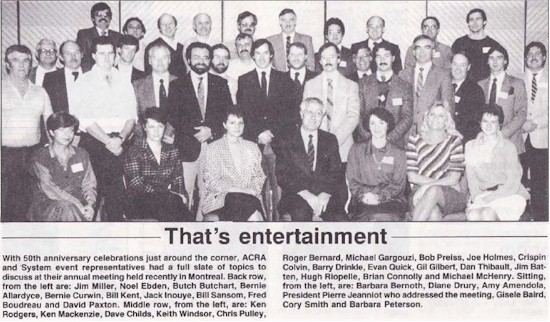 ---
Issue dated June 2012 (Used with permission)


"Horizons" magazine launched a new semi-permanent 75th anniversary column in the February 2012 edition.
We had the first photo of the page in NetLetter #1410. Here is the 1980's version.
---
Issue dated July/August 2012. (Used with permission)

Our greenest flight ever - Perfect in more ways than one.

On June 18, 2012 we operated our greenest flight ever! Airbus A319 C-GBHM fin #274 operating flight AC991 YYZ-MEX under the command of Captain Todd Martin and First Officer
Jeff MacLellan.

It also happened to be our first bio-fuel flight, our first "perfect flight" (defined as "one which helps meet aviation's short-term goals of improving fuel efficiency by 1.5 per cent every year until 2020"), and a world first - the second flight in a relay of four commercial bio-jet flights. Three successes rolled into one.
On July 24, Air Canada celebrated its second bio-fuel-powered flight! AC864 departed from Montreal for London using jet fuel derived from recycled cooking oil as well as employing other fuel-saving measures.