In October, 1966 direct non-stop service from Toronto to Honolulu was inaugurated.

On January 30, 1967 daily non-stop service between YVR and SFO was inaugurated.
The Canadian Government has decided to grant a year's extension to the Canadian Pacific Railway in its operation of Canadian Pacific Air Lines. Under Government order the C.P.R.'s air service was due in May to become a separate unit.

Presumably lack of airline facilities generally has caused the postponement of the decree.

(Source: flightglobal 1946 - 0779)
Extracted from the "Canadian Flyer" magazine.

Issue April 1997.

Gathered together in London, Ontario are former CP Air employees 1973-1984 vintage.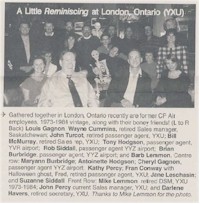 In this photo from left to right:
Back row: Louis Gagnon, Wayne Cummins, retired Sales Manager, Saskatchewan; John Turcot retired Passenger Agent, YXU; Bill McMurray, retired Sales Rep, YXU; Tony Hodgson, Passenger Agent, YVR; Rob Siddall, Passenger Agent YYZ; Brian Burbridge, Passenger Agent, YYZ; and Barb Lemmon.
Centre row: Maryann Burbridge, Antoinette Hodgson, Cheryl Gagnon, Passenger Agents, YYZ; Kathy Percy, Fran Conway with Halloween ghost, Fred, retired Passenger Agent, YXU; Jane Leschasin and Suzanne Siddall.
Front row: Mike Lemmon retired DSM, YXU 1973-1984; John Percy current Sales Manager, YXU and Darlene Havers retired Secretary, YXU.

Thanks to Mike Lemmon for the photo.
Issue dated May 1997.
Crunch time at YVR. (Photos by Rick Sloboda)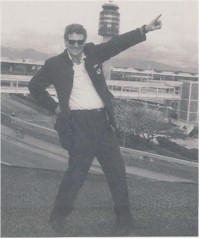 The "Crunch" takes place between 11:00 and 14:00 daily. The "Crunch" is a dance craze that has employees spinning and doing the twist and even running the "Sprint" during peak time at the Canadian Airlines YVR check-in for flights, where the employees play host to a series of arrivals and departures to and from Asia, trans-border and domestic in a very defined window of time.

Customer Service Lead Curt "Crazy Legs" Alden demonstrates just one of the many moves Vancouver employees use to get through the "Crunch".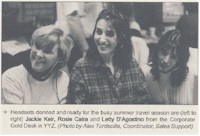 Headsets donned and ready for the busy summer travel season are:
Left to right, Jackie Keir, Rosie Caira and Letty D'Agostino from the Corporate Gold Desk at YYZ.
(Photo by Alex Tardecilla)