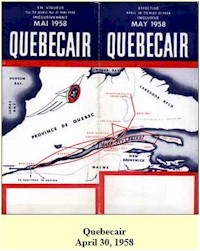 QUEBECAIR began as Rimouski Airlines in 1947 and flew under that name until it merged with Gulf Aviation in 1953 under the name Quebecair.
The year 1985 was a very difficult year for Quebecair as the airline industry in Canada was restructuring. The financial situation at the carrier forced the Quebec government, which had owned the airline for a several years, to sell the company to CP Air in July 1986.
Here is the timetable issued April 30, 1958 from the collection of David Zekria.
Below we have this ticket issued in 1983.
(Source: airticketshistory.com)