1987 - December 5 -
All Air Canada's intra-Canada and trans border flights of two hours or less duration were designated as non-smoking.
---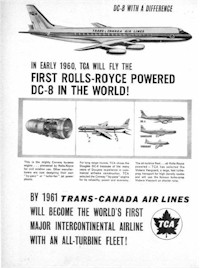 We located this 1959 Rolls-Royce advert poster found in "Flight" magazine dated August 28, 1959.
Ken Pickford provides the following piece of trivia regarding the ad:
The 1961 date mentioned at the bottom for TCA to become the first major airline with an all-turbine fleet was a little premature.
TCA had to retain a couple of DC-3s until April 1963 to operate the "Prairie Milk Run" route (Lethbridge - Medicine Hat - Swift Current - Regina - Yorkton - Brandon - Winnipeg).
The government finally permitted TCA to drop that route and the last flight, and TCA's last DC-3 flight, was April 12, 1963.
---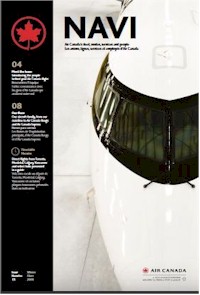 Air Canada NAVI magazine series was launched in March 2017.

Here we have the Winter 2018 cover page (left) and the crew (below).
From the left: Chelsea Gore, Hali Hamilton, Marcela Cardenas, Samantha Ferreira, Timothy Liu, Grace Cichini-Santos, Michael Chan, Julie Sipos, Slavica Radakovic, Andy Shibata, Anton Vidgen and Dzeneta Zunic.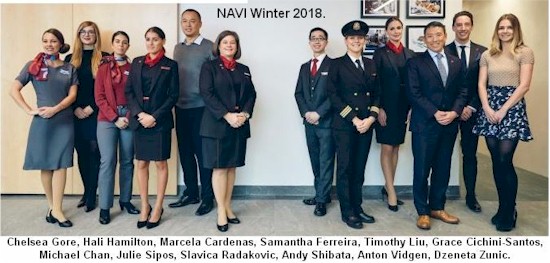 ---
Continuing the Time Travel: 75 Years in Events started in NetLetter #1419.

1948 - TCA brings in new Canadians.
TCA performs the largest mass movement of immigrants in air transport history in 1948, when it carries 6,000 immigrants from the U.K. on 175 crossings of the Atlantic.

(Source: moments.aircanada.com/timeline)

(More next NetLetter – eds)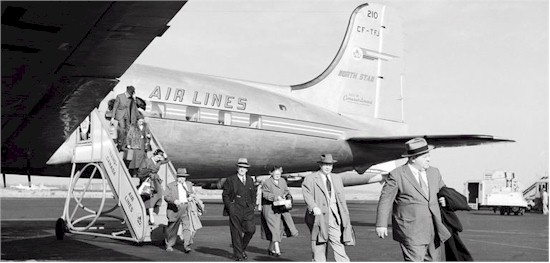 ---

Air BC a defunct Canadian airline -
Established in 1980 after the merger (by the Jim Pattison Group) of a number of west coast domestic airlines; Canadian Air Transit, Flight Operation, Gulf Air Aviation, Haida Airlines, Island Airlines, Ominecca Air, Pacific Coast Air Services and West Coast Air Services.
A combined fleet emerged, including STOL capable de Havilland Canada DHC-6 Twin Otters with some Twin Otters being operated as float planes. In 1983, STOL capable DHC-7 Dash 7 turboprop aircraft were delivered and then in 1986 DHC-8 Dash 8-100 turboprops were acquired.
In 1987, Air Canada purchased 85% of Air BC, and Air BC became an Air Canada regional partner operating as Air Canada Connector. Air BC entered the jet age in 1988 with British Aerospace BAe 146-200 aircraft which was the only jetliner type ever operated by the air carrier. In 1994, the airline was operating British Aerospace Jetstream 31 propjets as part of their Air Canada Connector code share feeder services. Stretched DHC-8 Dash 8-300 turboprop aircraft were introduced as well.
In March 1995, Air Canada purchased the remaining shares of Air BC.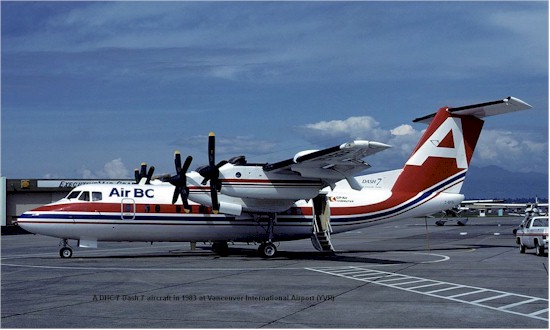 In January 2001, a newly merged carrier called Air Canada Regional Inc was established. A wholly owned subsidiary of Air Canada, this company combined the individual strengths of five regional airlines – Air BC, Air Nova, Air Ontario, Air Alliance and Canadian Regional Airlines.
Consolidation of these five companies was completed in 2002 and was marked by the launch of a new name and brand: Air Canada Jazz.

(Source: wikipedia.org)



From the "Horizons" magazine issued October 1987 is the extracted Air BC story.
---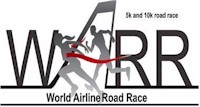 Results for Air Canada participants from the World Airline Road Race (WARR) held in Amsterdam September 5 - 7, 2019.
Individual awards - 10k women.

Women overall 2nd: Melina Renaud, time: 00:42:07.89.
Women over 70 1st: Joan Stibbard, time: 01:07:56.90.

Individual awards - 5k women.

Women 20-29 2nd: Melina Renaud time: 00:22:28.33.
Women over 70 1st: Joan Stibbard time: 00:33:44.26.
---

Extracted from the "Horizons" magazine.
Issue November 1987.
The 1987 System Tennis tournament held at the Saddlebrook Golf and Tennis Club, Tampa, Florida was well served with participants from 10 cities representing Vancouver, Calgary, Toronto, Ottawa, Montreal, Halifax, New York, Prestwick, London UK and Frankfurt.
The executive committee consisted of Roy Keane of Prestwick - Chairman; Ron Charbonneau of Toronto - Treasurer and Michel Masse of Vancouver - Secretary.
For next year, the committee will be Ron Charbonneau of Toronto - Chairman; Barry Bauer of Toronto - Treasurer and Sam Arnold of Montreal as the Secretary. The new committee are already planning for the 1988 tournament.
Below we have this photo
This year's tennis stars are, standing from the left: Ron Charbonneau, Janice Bouttell, Michel Masse, Ingrid Stockel, Pierre Jeanniot, Lucien Dahan, Roy Keane, Jake Sheps, Gail Ellis, Loraine Gore, Margaret Pascoe, Martial Doucet and Sam Arnold.
Kneeling from the left: Barry Bauer, Tony Chiovitti, Micheline Legeault, Ron Hebert, Josie Home and Don Home.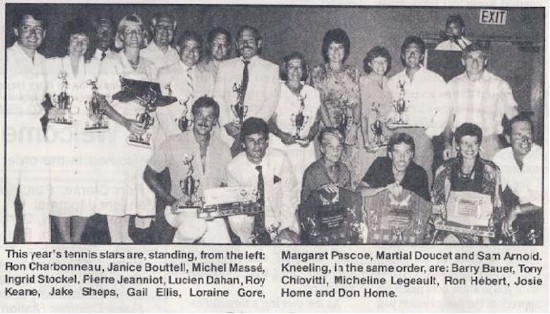 ---
The 11th annual System Soccer tournament was hosted by London, England with teams from Vancouver, Calgary, Montreal, Toronto and London UK., and played in constant rain.

Most valuable player trophy was awarded by Bob Lynch, Airport Passenger Services Manager London to Roy Hilton of Montreal. Second, third and fourth awards were presented to
Toronto, Montreal and Vancouver respectively by Ian Buchanan, Director Human Resources, Europe & Asia, Peter Baldry, Station Manager London and John Baker, Flight Dispatch Manager, London.
Harold Miloff, Director, Employee Affairs and Corporate Services presented the winner's trophy to Gary Marsh.
Everyone enjoyed the 11th tournament and look forward to the 12th due to be hosted at Winnipeg.
---
Good sports.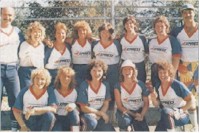 The Express Ladies fastball team once again captured the title at this year's System Fastball tournament in Vancouver.
In the photo team members are, back row, from the left: Ray Gregory (manager), Maureen Schwarze, Jacqueline McBaln, Harriette Van Leslie Venne, Leslie Hirsk, Betty Carter, Jo-Anne Love and Paul Trauzzi (coach).

In the front row, from the left: Christine Schultz, Debbra Roche, Donna Volpini, Lorraine Longeri and Marsha Legg.

Missing from the team photo are Sandy Kerby and Debbie Philips.
---
An historical event.

The U.S. Civil Aeronautics Board has granted permission for T.C.A. to operate a service between Montreal and Port of Spain, Trinidad, stopping at Tampa and St. Petersburg, Florida.
The C.A.B. does not consider that the diversion of business from other U.S. carriers will be very great, taking the view that, in any case, most of the travellers will be Canadian citizens. Protests against the routing of T.C.A.'s Trinidad service had previously been made by several U.S. airlines.

(Source: .flightglobal.com/archive)
On November 25, 1948, a pre-inaugural fight by a North Star aircraft visited the Caribbean islands which included Nassau, Bahamas; Kingston & Montego Bay, Jamaica and Port of Spain, Trinidad.
(Source: "Between Ourselves" magazine issue January 1949)
---
Terry found this poem in a copy of the Canadan Maple Wings Assciation (CMWA) Newsletter dated February 2018.

Mrs. GPS.

I have a little GPS
Seems I've had it all my life.
It's better than the normal ones
My GPS is ...... my wife.
It gives me full instructions
Especially how to drive
"It's thirty miles an hour," it says
"You're doing thirty-five! "It tells me when to stop and start,
And when to use the brake,
And tells me that it's never, ever
Safe to overtake.
It tells me when a light is red,
And when it goes to green.
It seems to know instinctively
And when to intervene.
It lists the vehicles first in front
And all those in the rear;
And taking this into account.....
It specifies my gear.
I'm sure no other driver
Has so helpful a device,
For when we leave and lock the car,
It still gives me advice.
It fills me up with counselling,
Each journey's pretty fraught.
So why don't I exchange it
And get a quieter sort?
Ah well, you see - it cleans the house,
Makes sure I'm properly fed;
It washes all my shirts and things,
And - keeps me warm in bed!
Despite all these advantages
And my tendency to scoff...,
I do wish that once in a while
I could turn the darned thing off.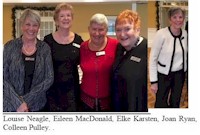 Also this photo of Louise Neagle, Eileen MacDonald, Elke Karsten and Joan Ryan taken at the CMWA Christmas lunch 2017 at the Lambton Golf & Country Club, Scarlett Road in Toronto.