NL #1425 included excerpts from AC Horizons magazine of November 1987.
The stories refer to the plans of Canadian Airlines and Wardair for fleet renewal & expansion at the time.
Ken Pickford clarifies the actual events that took place after those articles were published:
"Canadian never acquired 747 Combi's. Their four 747-400's were all-passenger aircraft."
"The Wardair acquisition of smaller aircraft mentioned in the next item also never happened. Wardair ordered 12 MD-80's and 12 Fokker 100's but Canadian Airlines acquired Wardair in the meantime and the orders for those aircraft were cancelled."
---
Clare Ash, retired CP Air Sales Promotion Manager, Eastern Canada has sent us this copy of an "Employee U-Write and Baggage Check"

(Remember the days when this had to be completed before travelling? - eds)

---
April 1, 1969 - Canadian Pacific Air Lines changed their name used for marketing purposes to CP Air.
April 27, 1969 - Introduction of non-stop service between Vancouver and Toronto.
June 20, 1969 - Inauguration of non-stop service between Calgary and Toronto.
January 31, 1969 - A major revision of air services in B.C. involving CP Air, Pacific Western Airlines and B.C. Air Lines was announced by the Canadian Transport Commission.

The new arrangement, based on proposals developed by the CTC's Air Transport Committee and the carriers at an Ottawa conference in November, 1968, is designed to provide increased service patterns on mainline, regional and local routes.
Under it, CP Air relinquished several of its B.C. routes. It is planned that the transfers will take place on April 27, 1969 when airlines switch from winter to summer schedules.
CP Air withdrew from two local services to concentrate on longer haul routes. PWA took over the Southern B.C. run with permission to link Vancouver, Penticton, Kelowna, Vernon, Cranbrook and Calgary. CP Air withdrew from Kamloops as well. PWA has operated a Vancouver-Kamloops-Calgary service for the past few months. Flights between Vancouver and Calgary by PWA had to include at least one intermediate stop.
CP Air also ended operations to Sandspit, but maintained exclusive non-stop services out of Vancouver to Prince George, Terrace and Prince Rupert, as well as the other services north into the Yukon.
PWA was authorized to extend its present coastal services (Vancouver, Powell River, Campbell River, Port Hardy) to Sandspit, Prince Rupert and Prince George. There was a ban, however, on non-stop PWA flights between Vancouver, Prince George or Prince Rupert.
B.C. Air Lines acquired CP Air's local run in Central B.C. and introduced a route pattern north from Kamloops to Williams Lake, Quesnel, Prince George, Smithers, Burns Lake, Terrace and Prince Rupert. It also was authorized to set up local services on the southern run, including Kamloops, Cranbrook, Castlegar, Kelowna, Vernon, Penticton and Vancouver.
In both instances, however, B.C. Air Lines was restricted as to the non-stop flights allowable between certain specified points. In a letter to the three airlines confirming the new arrangement, the ATC said it expects the carriers to cooperate fully in arranging schedules that will allow convenient passenger connections at points where the various services meet.
The Committee also suggested that any new passenger fares or freight rates required should be in line with those now in effect on existing routes.
(Source: Canadian Pacific Airlines newsletter February 1969)
---

Found in the "Info Canadi>n" magazine. Issue dated September 1988.

Aircraft mechanic Daniel Michel, Crew 3, Ramp Maintenance Vancouver, (note the Canadian cap under his parka) at the 17,500-foot level of Mt. McKinley, it was the last camp before reaching the summit on the 18th day of his climb. In the background Mt. Foraker is visible.
Reaching the peak brought on a feeling of achievement and satisfaction, he said.
(Alaska's 20,310 ft./ 6,144m Mount McKinley, highest mountain in North America, was officially renamed Denali in 2015.)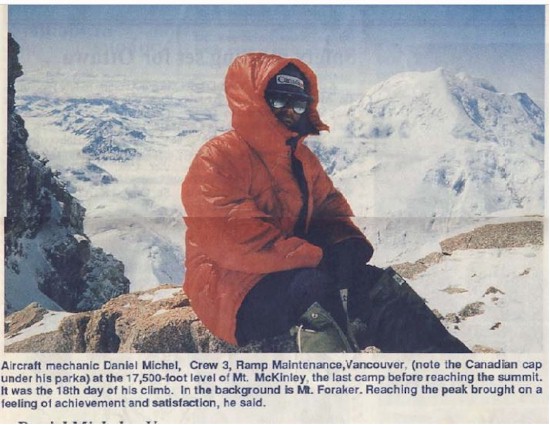 ---
A memory by Anthony Hickey.

Probably the most colourful PWA B-737 ever! It was leased from Aer Lingus winter 79/80 as C-GTAR.

Transair Winnipeg previously leased it as CF-TAR. It flew with Aer Lingus as El-ASH. They leased it out over the years to Frontier, Air Florida, Southwest, TAN Honduras, Aerolineas Argentinas to name a few. PWA crews affectionately named it Kermit the Frog after the Sesame Street character.

I got lucky and flew on it from Edmonton Municipal (YXD) to Calgary (YYC) in February 1980. Cabin crew were surprised that I knew so much about the aircraft and its history at the time. It always looked special over downtown Calgary on the descent to Runway 34. Thank you Kermit.
(Reprinted from: pwareunion.com)