Frequent NetLetter contributor, John Rodger, would like to pass along what has been keeping him busy in retirement.
Retiring in 1992, I joined the AC Pionairs. After going through the ranks I finally ended up as National President in 2003 and am still involved with the Quebec District committee today.
I also got back to my roots. Born and raised on a dairy farm in Lachute, Quebec, our father showed cattle at many fairs around home and at the Royal Agricultural Winter Fair in Toronto.
Myself and Doug MacKenzie would take time off work (our vacation) to go up to the Royal to help show the cattle. I stopped after 1964, got married and started a family. When I retired we moved to Mississauga in 1992 as my wife's company moved her to the head office.
My father had passed away before we moved and I decided to put a trophy in the Royal Ayrshire Show in his memory. I went to the Royal office (on the CNE grounds) to put the trophy in the show. I knew the manger at that time and he asked what I was doing in 'TO'.
I said I was retired and living in Mississauga. Before I knew it I had the job of looking after all the trophies at the Royal which is over 200 trophies in the Horse Show and the Agriculture Shows. I still kept the job after we moved back to Montreal in 1996. I thought it was time to give it up in 2006 but that didn't work out until this year. It has been a great run to do something you love to do and I will miss it for sure.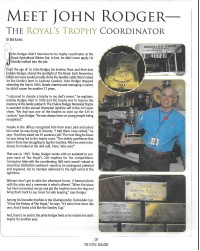 During that time I had a few helpers who happened to be Pionairs as well. Bernie Danis, the late John Brodure, his brothers-in-law Terry & the late Ron Houston. Also had visits from several members, the late Captain Alf Ross, Ed Storie, the late Gord Dalziel, Ken Walker, Ted Page and the late John McKee.
There were three drivers that had the job to pick up judges and staff at the airport or hotels who were also Air Canada employees & Pionairs.
Attached is an article about me in the The Royal Horse Show Magazine, November 2006.
Below are images of our trophy presentation this year and Ken Walker and myself in the trophy room.